Asia-Pacific
Thai police fire tear gas to disperse protesters in Bangkok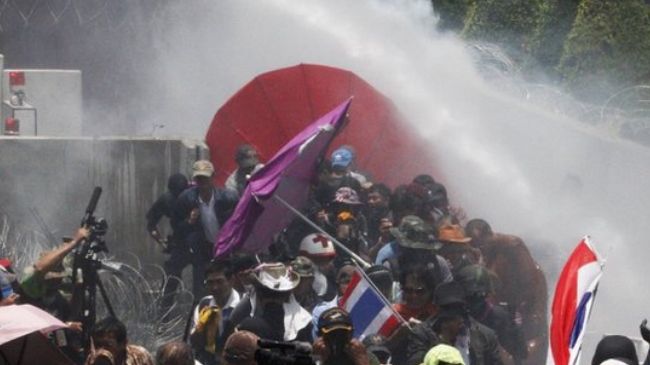 Thailand's riot police have fired tear gas at hundreds of protesters trying to force their way into a government building in the capital, Bangkok.
This came as angry protesters tried to push down barbed wire-topped concrete barriers outside the main government's security command center in downtown Bangkok on Friday
Police also used water cannon on protesters who wanted to besiege several government buildings and compounds in the area.
Reports say at least five people were injured in the scuffles between police and protesters. Anti-government protesters say the removal of the premier will not solve the country's political crisis.
The developments came two days after the Constitutional Court ousted Yingluck Shinawatra and nine members of her Cabinet over abuse of power.
The protesters demand the complete dismissal of the current cabinet and the transfer of authority to the People's Council.
Meanwhile, supporters of the ousted premier, known as the Red Shirts, are also preparing for a major rally in Bangkok on Saturday. The Red Shirts say the move is to show their readiness in case anti-government protesters try to seize power through undemocratic means.
Shinawatra's supporters accuse judicial institutions of trying to take over power without elections. They also accuse the Constitutional Court of bias in frequently ruling against her administration.
The Red Shirt protesters had already warned that they would fight back in case of any attempts to oust Shinawatra's government through legal action, stressing that the move could trigger a civil war.
Thailand has been shaken by over six months of political violence leaving 25 people dead and hundreds wounded.