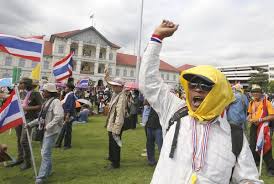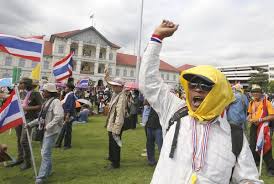 Thai anti-government protesters say they have achieved 'victory' following a move by the police to allow the demonstrators through barricades outside the government building and Metropolitan Police Headquarters.
Thai protesters say achieved victory
Police on Tuesday allowed opposition protesters through the barricades to ease recent tensions in Bangkok.
Police had cracked down on protesters, using tear gas, water cannons, and rubber bullets since recent protests erupted in late November.
The demonstrators reached the office of Prime Minister Yingluck Shinawatra, known as Government House.
"This is a victory for us. This is a victory for the protesters," said a demonstrator. "The police pulled back, because they know that if this does not stop, more people will get hurt, more people will die."
Protesters in Thailand denounce the government of Yingluck Shinawatra, who is the sister to former Premier Thaksin Shinawatra – a telecommunications tycoon ousted in a 2006 coup. Thaksin, who is said to be the power behind the current government, has lived in a self-imposed exile since his ouster.
The ongoing round of protests was triggered by a government-backed amnesty bill that could have extended a pardon to Thaksin Shinawatra and paved the way for his return to the country. The bill was rejected by the Thai senate on November 11.
On Monday, opposition leader Suthep Thaugsuban said even if the prime minister dissolves parliament and fresh elections are held, he will "continue the fight… because they can always come back to suck the blood of people, steal from people, disrespect the constitution and make us their slaves."
Prime Minister Yingluck Shinawatra said on Monday in a news conference that she is ready to take any necessary steps to end the political turmoil in the country, though she stopped short of accepting opposition leader's "unconstitutional" demand to step down.
"Anything I can do to make people happy, I am willing to do… but as prime minister, what I can do must be under the constitution," she said.