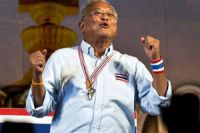 Thai protesters have vowed to continue fighting against the government despite martial law imposed by the army.
"We will still keep fighting – we have not won at all," said protest leader Suthep Thaugsuban in a speech to his supporters in the capital Bangkok on Tuesday.
"The announcement of martial law has no effect and is in no way an obstacle to our fight," he stated, adding, "Tomorrow we will still be here. We still have to continue our mission as planned, in order to get a prime minister of the people, a government of the people."
According to AFP, opposition demonstrators have been taking to streets for nearly seven months in an attempt to unseat the government.
Earlier in the day, the Thai army declared martial law "to maintain peace, order and public safety for all groups and all parties."
"They (the army) need to impose this martial law because they need to maintain peace and stability, and to suppress the ill-intended people. They haven't revoked the constitution. They didn't stage a military coup. They did not seize power. The constitution still exists and is complete with every page, chapter and section," said the protest leader.
On May 7, Thailand's Constitutional Court ousted Prime Minister Yingluck Shinawatra from office over abuse of power.