Asia-Pacific
Thailand bracing for more anti-government protest rallies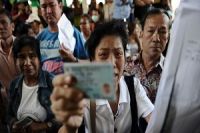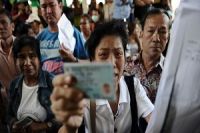 Anti-government protesters in Thailand plan to press ahead with their demand to overthrow Prime Minister Yingluck Shinawat.
According to Press TV, the planned protests come a day after protesters disrupted general elections in parts of the capital, Bangkok, and the south.
On Sunday, demonstrators managed to block a fifth of polling stations throughout the country. At least seven people were wounded in vote-related skirmishes.
The elections were called by the premier to head off weeks of persistent protests.
But despite the government's efforts, the protesters remain adamant, demanding Yingluck's resignation and the appointment of a people's council.
With the failure of the government to pull off a successful vote, it is expected that Yingluck's administration will further plunge into instability.
At least ten people have died and dozens more injured since the new wave of unrest broke out last November. The turmoil started after Bangkok proposed an amnesty bill that could have pardoned ousted Prime Minister Thaksin Shinawatra, setting the scene for his return to the country. He is a brother to the prime minister.