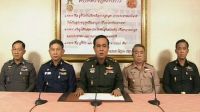 Thailand's army chief says the armed forces have seized power, saying the act was necessary to restore stability after six months of political deadlock and turmoil.
According to AFP, General Prayuth Chan-ocha said in an address to the nation on Thursday the National Peace Keeping commission would now take control of the country's administration.
He said that the country's committee needs to prevent violence and restore stability in the country.
The general failed, however, to provide clarity on a path forward.
The army coup comes after a second round of talks between rival political parties and election officials failed on Thursday.
On May 20, Thailand's army declared martial law across the country.
Anti-government protesters, however, say they will continue their rallies, which erupted in Thailand six months ago.
Tensions deepened in Thailand after the Constitutional Court removed Prime Minister Yingluck Shinawatra from office on May 7 for abusing power. The premier's Pheu Thai Party, however, refused to leave power and immediately replaced Shinawatra with the country's Commerce Minister Niwattumrong Boonsongpaisan.