Yemen
The axis of terrorists in Syria and Iraq attacked a 3 Mosque and martyred over 140 wounded 350 in Yemen Capital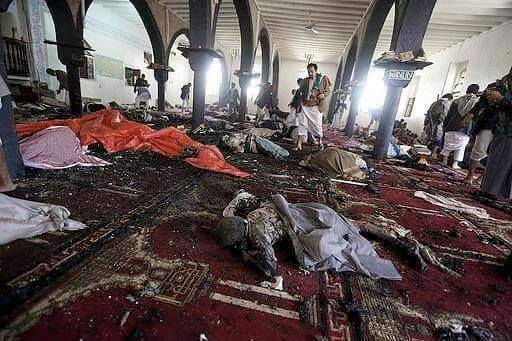 Triple suicide bombings killed 140 people and wounded 350 others Friday at mosques in the Yemeni capital, medics said.
One suicide bomber struck inside Badr mosque in southern Sanaa while another targeted worshippers as they fled outside, witnesses said.
The third suicide bomber targeted Al-Hashahush mosque in northern Sanaa.
Leading Huthi cleric Al-Murtada bin Zayd al-Muhatwari, the Imam of the Badr mosque, was among those killed, a medical source said.
Footage aired by Al-Massira Yemeni TV showed bodies lying in pools of blood outside the mosques, as worshippers rushed the wounded to hospitals in pick-up trucks.
Another suicide bomber blew himself up outside a mosque in the northern city of Saada, a source said.
Only the assailant was killed in that explosion and tight security at the mosque prevented the bomber from going inside, the source added.
Source-Al-Manar