Lebanon
The Mighty Hezbollah in Snow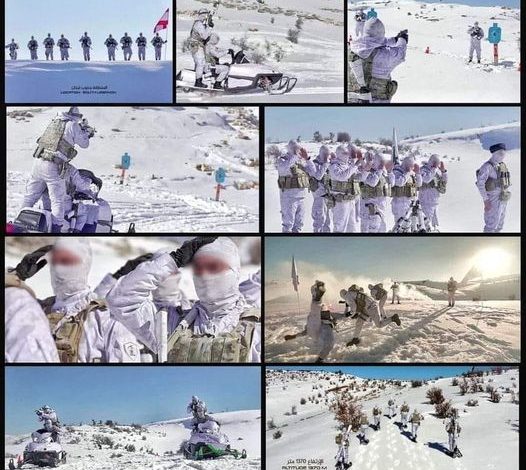 Hezbollah's Military Media revealed on Wednesday a video showing Lebanese Resistance fighters during a military exercise in the snowy slopes of southern Lebanon using skis and sledges.
The party's Military Media released the footage on the memorial day of Hezbollah's martyred commanders- Sheikh Ragheb Harb, Sayyed Abbas A-Mousawi and Hajj Imad Mughniyeh.
The video started and ended with this statement: "In the name of the lord of clear conquest."
According to the footage, Hezbollah fighters were exercising in a region in south Lebanon that rises 1,380 meters above sea level, with the temperature reaching -2°C.
Wearing white snow camouflage uniforms with Hezbollah logo, the Resistance fighters appeared training, using several kinds of weapons including machineguns and pistols, as well as snowboards and ski jets.
The Mujahedeen (fighters) appeared in the video firing at targets holding the Star of David, referring to targets belonging to Israeli occupation forces. Hezbollah flags also appeared in the video, but in white to match the bright color of snow.
"What distinguishes Hezbollah is that its mightiness makes fear stream into (its enemies) before taking any action," a voiceover of Hezbollah Secretary General Sayyed Hasan Nasrallah was also broadcast in the video.
Sayyed Nasrallah is to deliver a speech on Wednesday in memorial of its martyred leaders. His eminence will speak at 15:00 (Beirut time) during a ceremony organized by the Resistance party in Beirut southern suburb (Dahiyeh).
Source: Al-Manar English WebsiteHezbollah