Palestine
The youngest medic at the Great March of Return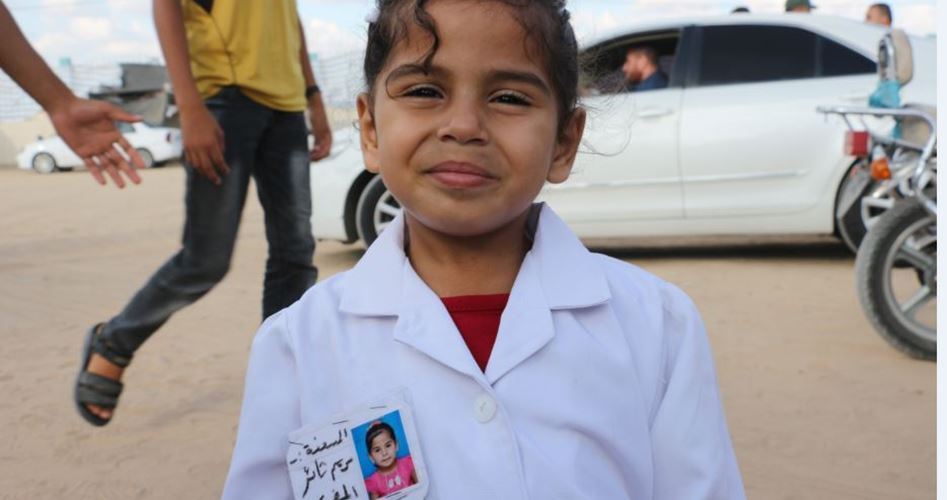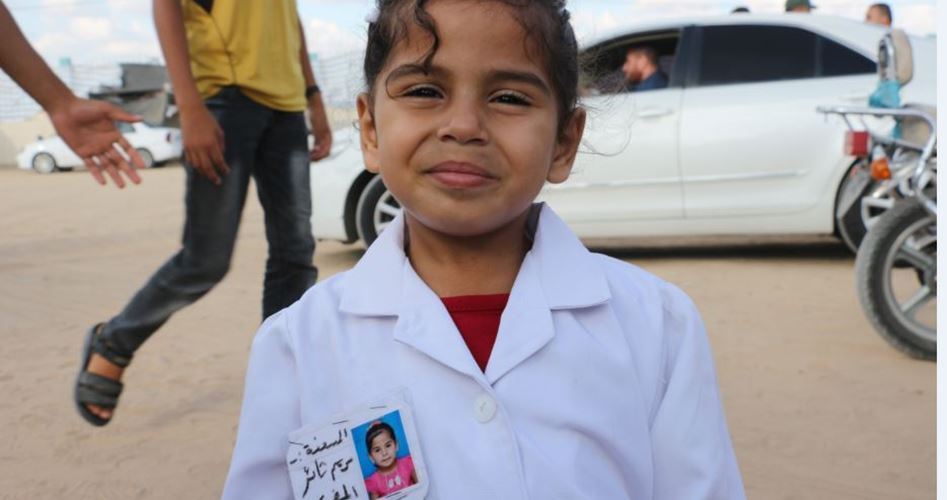 Since girl Mariam Al-Mughrabi, 4 years old, made it to the Great March of Return east of the Bureij refugee camp, eyes followed her, and many people started taking photos of her.
It is true that at such a young age, she will not be able to do anything real for the wounded, but her talk to her parents about the martyred medics and wearing their medical vests deserves to be told.
Al-Mughrabi family has been participating in the Great March of Return since day one east of Al-Bureij refugee camp, attending most of the events of the march, both large and small.
Peaceful participants and ambulance crews are directly targeted by Israeli snipers at the weekly marches; dozens of paramedics have been killed and wounded over the last six months out of a total of 19,600 who were wounded and 173 who were killed.
Too young medic
Mariam's mother says the family is participating in the Great March of Return since day one on the Gaza fence. Mariam knows that the march is permanent. Recently, she has been asking her mother why the participants were shot by the Israeli soldiers.
Mariam told her mother a few days ago that she wanted to be like the martyr Razan al-Najjar, who was shot dead by the Israeli forces to the east of Khan Yunis.
She wears the white gown, saying: "Today I wear the paramedics' vest and I come to save the wounded. The soldiers are shooting explosive bullets at the bodies of people which are internationally prohibited."
She keeps saying: "Why do soldiers fire at people? How do the wounded get wounded? We want to go back to Jerusalem, I want to go back to the village of my parents, from which they were forced out."
Medical stuff
Before the weekly protest the Great March of Return, Mariam's father got surprised that she had asked for some medical supplies to embody the role of a paramedic in the house before heading to the march.
She held medical wraps and mimicked treating her younger brother's hand, claiming that he was one of the wounded, and was in urgent need of an ambulance.
Sobhi Al-Mughrabi, the grandfather of Mariam, said his granddaughter, like other children in the Gaza Strip, was affected by the scenes of the wounded on the Gaza Strip fence.
"We took her to the Great March of Return and she would say: I am a medical doctor, Mariam al-Maghrabi, I will help the wounded by the Israeli occupation forces on the border fence because they are suffering from internationally prohibited bullets."
The mother of Mariam, Um Al-Bara, placed on her white dress a card with her name and job. Mariam was honored by the Steering Committee of the Great March of Return to the east of Al-Bureij camp after she climbed the platform of the ceremony.