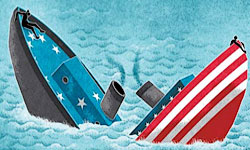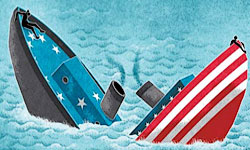 The US influence around the globe is much less than what the people of the world and its enemies think, and Washington's diminishing role in the Middle East region clearly shows that, an assessment report by an American think tank said.
The Gatestone Institute in an article by Shoshana Bryen wrote that the American statesmen have always thought that the people of other countries are in need of their social and governmental support as well as their money, medicine and weapons.
It noted that the same thing has been true with other colonial powers such as France, Britain, Belgium and Russia throughout the history.
The think tank noted that the colonial powers believe that there was no substitute for their own armies and officials to ensure that their colonies stayed in line.
Instead of former colonial occupation forces, the US takes its money, arms, training and agenda abroad, it said.
The think tank, however, said irrespective of what the US officials think about the application of their money, troops, training, education, and infrastructure, The US influence is markedly less than they or their enemies think it is, or ever thought it was.
Shoshana Bryen has more than 30 years experience as an analyst of US defense policy and Middle East affairs, and has run programs and conferences with American military personnel in a variety of countries.