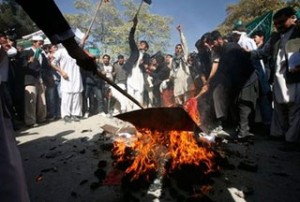 Representatives of Islamic organizations held an anti-Zionists rally in Jakarta, Indonesian capital to condemn Israel's aggressions against Al-Aqsa mosque.
According to Al-Jazeera TV network demonstrators asked Indonesian government to be firm in its stance toward the Palestinian crisis.
Condemning the Zionist regime's aggressions against the Quds and its holy sites, demonstrators called on Indonesian as well as other Arab and Islamic governments to adopt appropriate stance to bring an end to Zionists' illegal measures.
Indonesia parliament had held two meetings to discuss Quds crisis and demanded the country's Foreign Minister to explain about the government's stance toward the occupying regime.
Indonesian mosques are also active in collecting humanitarian aids for Palestinians. They also encourage Indonesian firms not to normalize relations with Israeli counterparts.
The holy city of Quds has a special status among Indonesians.