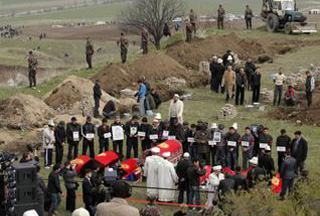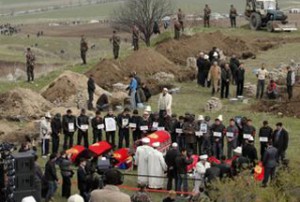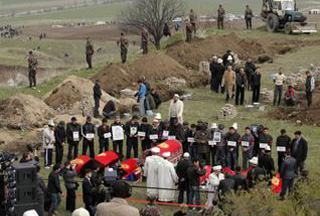 Mourners have gathered in the Kyrgyz capital, Bishkek, to say goodbye to the victims of the unrest, which overthrew the government.
Thousands arrived in Bishkek's main square on Saturday to take part in the state-organized mass funeral on the second day of national mourning for those killed in the violence earlier in the week.
The ceremony follows Wednesday's violent clashes between security forces and anti-government protesters.
Dozens were killed and over 1,500 were wounded after government troops opened fire on demonstrators outside the presidential palace.
The unrest was sparked by public anger over corruption and rising consumer prices.
The interim government led by Roza Otunbayeva has described those killed in the unrest as "heroes."
Ousted Kyrgyz President Kurmanbek Bakiyev says he is still the head of state. Bakiyev, however, says he fears he would be killed if he returned to the capital.