Human Rights
Thousands of Italian students, teachers hold anti-austerity demo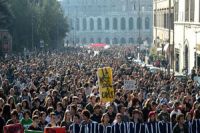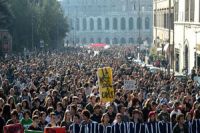 Thousands of Italian high school students, teachers and right-wing groups have taken to the streets countrywide to express their anger over austerity measures imposed by Prime Minister Mario Monti's government.
According to Press TV, the main demonstration took place on Saturday in the Italian capital Rome where the protesters including members of the Cobas Union carried banners that read "Austerity, let us reclaim our lives."
Protesters also chanted slogans such as "No to the destruction of the public schools" and "Banks run politics, the private sector wants to run schools."
Earlier in the day, hundreds of high school students rallied in the southern city of Naples to express their outrage over government's austerity programs.
Reports say that a similar protest was also held in the country's southern city of Palermo.
The demonstrations were against reductions in local government finances and the freeze on public sector hiring as well as deep cuts in the education budget.
The government says the reforms are needed to create jobs, increase competition, and cut costs in eurozone's third-largest economy.