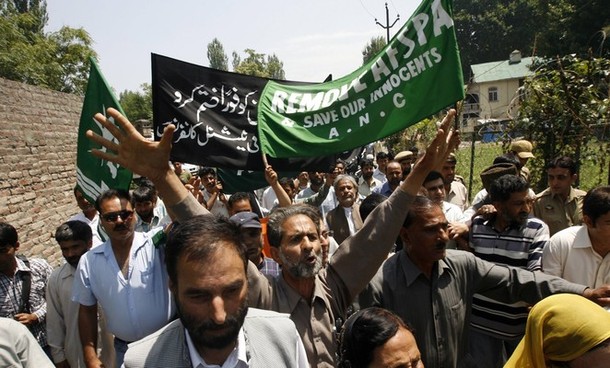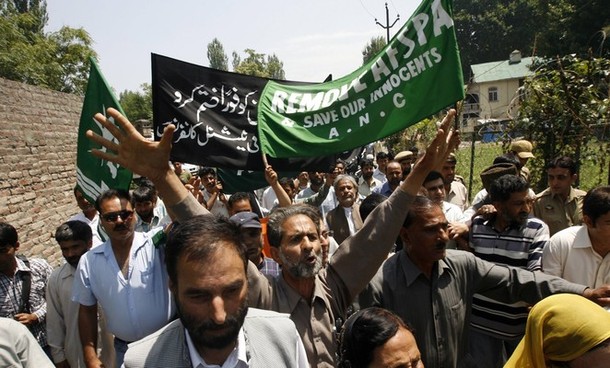 Thousands of people have taken to the streets of Indian-administered Kashmir in defiance of a government imposed curfew in the region.
The demonstrators held sit-in protests at several locations in Srinagar, chanting anti-India slogans on Thursday.
"We Want Freedom!" and "Allah Is Great!" Kashmiris shouted, demanding withdrawal of Indian troops from the region.
"We have lost many innocent civilians and we cannot bear to see more losses of lives, we want Indian forces to leave Kahsimir," a protester told Press TV correspondent on Thursday.
Shops, schools and offices in the Indian-administered Kashmir remained closed for the fifth day.
The protests came as Pakistani Foreign ministers Shah Mehmood Qureshi and his Indian counterpart S.M Krishna held talks in Islamabad to resume peace process.
Indian security forces are struggling to control demonstrations in the Kashmir valley after being blamed for the killing of 15 civilian protesters over the past month.
Each death sparked fresh violence across the volatile Himalayan region.
India and Pakistan both claim full control over Kashmir but rule the territory only in part. The dispute has led to two wars between the two countries.
Tens of thousands of people have been killed in Kashmir since anger against the Indian rule turned into rebellion back in 1989.