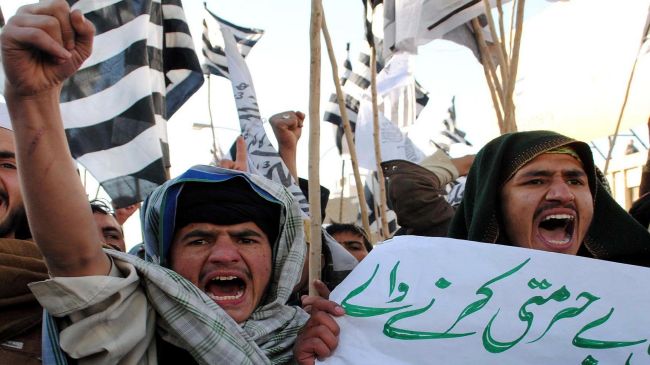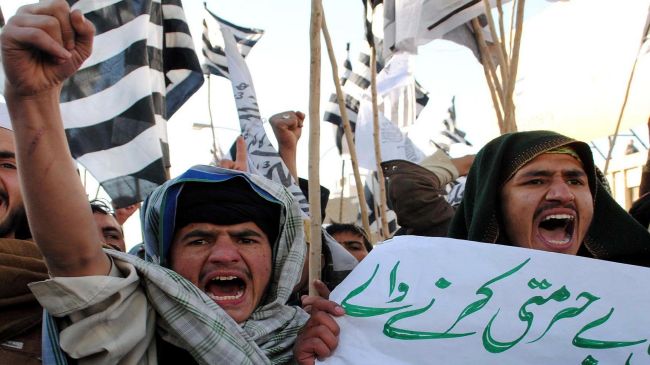 More than 500 people have staged rallies in southwest Pakistan in protest against the over the burning of the Holy Qur'an and other Islamic reading material at a US military base in northern Afghanistan.
The protestors, mainly from Islamic groups and political parties, shouted "Down with US, down with Obama, friends of America are traitors," as they gathered in Quetta, the capital of Balochistan Province and located 700 kilometers (435 miles) southwest of the Pakistani capital Islamabad, on Thursday.
"The burning of Qur'ans is a conspiracy to hurt the feelings of Muslims," a senior leader of Jamiat Ulema-e-Islam (Assembly of Islamic Clergy) Hafiz Fazal Muhammad said.
Anti-American demonstrations are under way across Afghanistan in apparent anger over the burning of the Holy Qur'an and other Islamic reading material at the US-run Bagram Airbase, located 11 kilometers (7 miles) southeast of the city of Charikar in Afghanistan's Parwan Province.
At least twenty Afghans have been killed since the beginning of protests on Tuesday.
Meanwhile, US President Barack Obama sent a letter to his Afghan counterpart Hamid Karzai on Thursday, apologizing for the burning of copies of Holy Qur'an by American forces in Afghanistan.
White House spokesman Tommy Vietor said that the letter was delivered to Karzai by US Ambassador to Kabul Ryan Crocker.
Obama told Karzai that the incident, which has sparked angry protests against US and NATO forces in Afghanistan, was not intentional, Vietor said.
"In the letter … the president also expressed our regret and apologies over the incident in which religious materials were unintentionally mishandled at Bagram Airbase," the senior US official noted.