North America
Thousands of protesters rally against Trump during campaign speech
US President Donald Trump has delivered another attack against leading Democratic presidential candidate Joe Biden during a campaign speech in Minnesota, as thousands of anti-Trump protesters rallied against the Republican president nearby.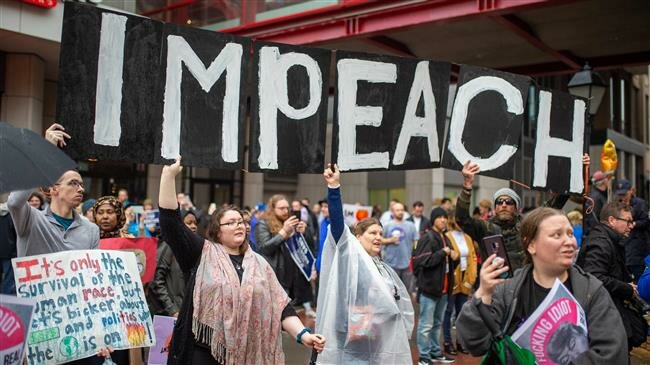 As he faces an impeachment probe provoked by his unprecedented calls for Ukraine and then China to assist in finding damaging information about his political rivals, Trump continued to attack Biden and his son Hunter on Thursday at an electon rally in Minneapolis, the largest city in Minnesota.
Trump repeatedly mocked the former vice president and his son during his speech, while insisting that his call to have the Bidens investigated stems from his desire to root out corruption.
"By the way, whatever happened to Hunter. Where the hell is he? Where's Hunter?" Trump asked, adding, "Hunter, he's not too smart. … Where is Hunter? … Hunter you're a loser!"
"Your father was never considered smart. He was never considered a good senator. He was only a good vice president because he understood how to kiss Barack Obama's ass," Trump said of Biden.
Trump's campaign speech was the first since Democrats began impeachment proceedings two weeks ago to remove him from office.
The expanding impeachment probe is perhaps the most serious threat to Trump's presidency, and the White House has so far failed to contain the crisis.
Thursday's political rally served as a proving ground for the president as he tries to use the impeachment inquiry to energize supporters for his 2020 campaign by casting himself as victims of Washington Democrats.
During the speech, Trump spent little time defending his attempt to pressure the Ukrainian president to investigate the Bidens. Instead, he described the impeachment probe as a battle between him and the establishment Democrats.
"They want to erase your vote like it never existed," Trump said. "They want to erase your voice, and they want to erase your future."
"The Democrats' brazen attempt to overthrow our government will produce a backlash at the ballot box the likes of which they have never ever seen before in the history of this country," he added.
Trump called Muslim Congresswoman Ilhan Omar, a Democratic from Minnesota, "a disgrace" and an "America-hating socialist." He also said US House of Represenatives Speaker Nancy Pelosi, the highest ranking Democrat in Congress, was "really stupid."
Most Democrats want to impeach Trump: PollMost Democrats want to impeach US President Donald Trump, according to a new poll.
Thousands of protesters converged on Target Center hours before Trump's appearance, eventually packing the streets surrounding it. Many were chanting "Lock him up! Lock him up! Lock him up!" — referring to Trump.
Some clutched helium-filled balloons depicting Trump as a baby, similar to the famed Baby Trump balloon that flew above a nearby building.
Protesters got into a brief confrontation with police after some of the demonstrators set Trump hats on fire. Police moved in to put out the fire, apparently angering the protesters.
Associated Press reporters watched as police briefly fell back before forming a line of bicycles and horses, with one officer using pepper spray.
Support for impeaching Trump had been rising since late September after an unidentified US intelligence official filed a whistleblower complaint accusing the president of pressuring Ukraine President Volodymyr Zelenskiy to investigate Biden and his son for corruption.
Polls show that Biden, the former vice president, fares better than other Democrats including Senators Elizabeth Warren and Bernie Sanders in a hypothetical general election matchup against Trump.