Syria
Thousands of Syrians flee ISIL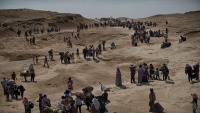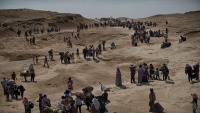 In the wake of escalation of the attacks and raids staged by the terrorist outfit, dubbed 'Islamic State of Iraq and the Levant' (ISIL), throughout northeastern Syria, thousands of Syrian civilians have fled the scene and are heading for the Turkish borders.
According to IRIB World Service, thousands of Syrians have left the region to escape from ISIL operatives, who are battling Kurdish forces.
The majority of these Syrians are women and children, who have moved toward the Turkish soil via a temporary passageway, which is under the supervision of the Turkish forces.
Meanwhile, the Turkish administration plays an important role in the intensification of moves of terrorists in Syria, and vividly sends arms for different terrorist outfits in the northern front of Syria.
MR/MG