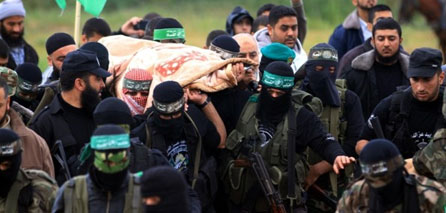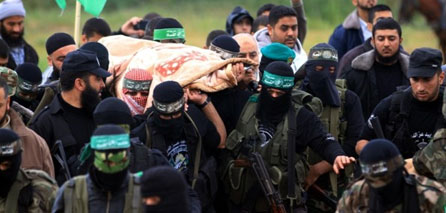 Gaza- Thousands of Palestinians participated on Sunday afternoon in the funeral of "Khansa of Palestine" MP Mariam Farhat, who passed away at dawn Sunday at age of 64 after long struggle with illness.
The Palestinian Prime Minister Ismail Haniyeh and the First Deputy head of the Legislative Council Ahmed Bahar participated in Farhat's funeral procession, in addition to other Palestinian ministers, MPs, factions' leaders and thousands of citizens.
Gaza Premier Ismail Haniyeh mourned the Khansa of Palestine in a speech he delivered at the Omari mosque in Gaza City center, and promised to follow her example in the way of struggle and resistance until the liberation of Palestine from the Israeli occupation.
Haniyeh reminded of Farhat's sacrifices and legendary steadfastness and endurance. He said she was "a gift from heaven to the people of the earth" and described her as "an exceptional woman".
Farhat became known as the "Khansa of Palestine", named after a 7th century female Arab poet, to honor her steadfastness after she lost three of her sons in resistance activities against the Israeli occupation.
All her sons are members of the Hamas armed wing Al-Qassam Brigades, Haniya said. One of them, Commander Nidal, made the Qassam rockets which have reached Tel Aviv and Jerusalem. Her son Mohammed has carried out a martyrdom operation in Atzmona settlement and killed 9 soldiers.