World News
Thousands protest against compulsory COVID-19 vaccination in New Zealand
Thousands of people have rallied toward the parliament in New Zealand to protest against compulsory COVID-19 vaccination and government lockdowns, forcing authorities to beef up security measures.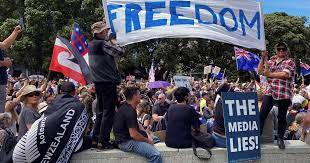 The protesters, mostly unmasked, marched through central Wellington, holding placards with messages like "Freedom" and "Kiwis are not lab rats" and shouting slogans as they demanded the government to roll back compulsory vaccination and lift restrictions.
Dozens of motorcyclists also took part in the demonstration, resisting the government's decision to make coronavirus vaccination compulsory for everyone.
"I'm here for freedom. The government, what they're doing, is anti-freedom," a protester was quoted as saying, giving his views about the compulsory vaccination mandate.
All but two entrances to the parliament building, known as the Beehive, were closed off with heavy deployment of police and security personnel to ensure the peaceful protest didn't turn violent.
Protesters also slammed the media for lying about COVID-19 vaccines.
"I will not be coerced and I will not be forced into taking something I don't want in my body," a protester said outside the parliament building.
Prime Minister Jacinda Ardern announced last month that health workers and teachers must be fully vaccinated against the virus. Health and disability sector workers will have to be fully vaccinated by first of December, while school staff time limit has been extended to January 1.
Ardern spoke to reporters inside the parliament building emphasizing that, "what we saw today was not representative of the vast bulk of New Zealanders."
She has promised to end lockdowns after 90 percent of the population is fully vaccinated. However, people that do not comply with vaccine mandates will lose their jobs, she has warned.
Nearly 80 percent of the total population in New Zealand has been fully vaccinated. The decision of mandatory vaccinations comes as New Zealand reported 125 new cases on Tuesday.
Public pressure has grown to ease the coronavirus related restrictions ahead of the holiday season.
New Zealand government has adopted tough COVID-19 restrictions, including stringent lockdowns and tight border control, leading to lowest COVID-19 cases in the world with only 32 deaths in a population of five million.
The total number of infected cases reported since the start of the pandemic is under 8,000.