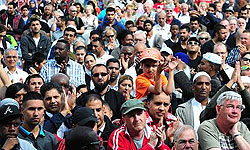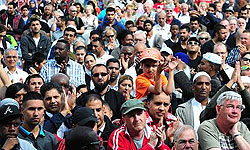 Union chiefs will call for coordinated strikes during a march by workers in central London against the Government's "brutal" spending cuts.
Tens of thousands of people including teachers and firefighters, anti-war campaigners, politicians, community groups and other activists are expected to take part in the mass demonstration, while similar protests are held in Belfast and Glasgow, Sky news reported.
TUC general secretary Brendan Barber and other union leaders will tell the Tory-Lib Dem coalition that its austerity program is failing.
They will accuse the Government of "broken promises" and of following the "wrong economic policies".
Members of the GMB, National Union of Teachers, Unite, the Rail, Maritime and Transport (RMT) union, the Public and Commercial Services (PCS) union and the Fire Brigades Union will also join in the protest.
Bob Crow, general secretary of the RMT union, will say, "The marches are a building block towards the objective of coordinated action and a general strike. That is why RMT says, march today, strike tomorrow."
Labor leader Ed Miliband will also make an appearance at the Hyde Park rally and tell demonstrators that any government would have had to make some spending cuts.
"I do not promise easy times. But I do promise a different and fairer approach," he will say.
"This Government has shown us self-defeating austerity, by cutting too far and too fast, is not the answer.
"Our economy has not grown. It has flatlined."