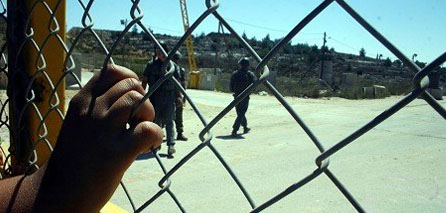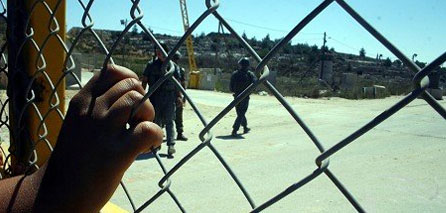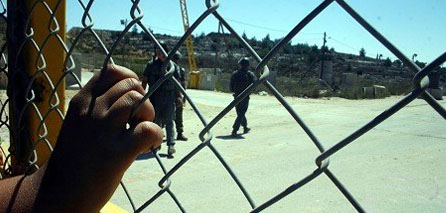 Jericho-Family of a Palestinian detainee says an Israeli military court is preparing to expel him from the West Bank as a condition of his release, sending him "abroad."
Majd Ibrahim Abdallah Burghul, from the West Bank city of Jericho, completed his two and a half year sentence over six months ago, his father Abdullah told Ma'an.
He said an Israeli military court had scheduled hold a session for Tuesday, where officials would review a decision in his son's case, and determine whether or not he would be deported.
His father said Majd was told he may be sent "abroad," but explained that he had no further information about what could happen to his son.
In April, former prisoner Ahmad Sabbah was expelled to Gaza by Israeli prison authorities. He said he was given the choice to remain in prison for an undetermined period of time, or be released into Gaza.
The Gaza government refused to accept Sabbah, who remained at a tent at the Erez crossing for weeks pending intervention from the Palestinain Authority and international rights organizations.
Sabbah was the first of a string of Palestinians who were reportedly expelled from Israel and the West Bank and sent to Gaza. Many held Gaza-issued identity cards, but had moved to the West Bank or areas inside Israel years and sometimes decades earlier, but had been prohibited from changing their place of residence by Israeli authorities.
Rights organizations said the move was an implementation of Israeli Military Orders 1649 and 1650 , which changed the definition of an "infiltrator" to include any individual without express permission to reside or travel within Israeli-controlled areas, including "Area C" of the West Bank.
According to Majd's father, the young man was issued a West Bank identity card, no. 5000085670, when he returned home from an earlier prison term in 2000, and had been living with his family in Jericho since then until his subsequent detention.
Palestinians born in Gaza but residing with family or working in the West Bank from 2000 onwards faced increased difficulty in changing their place of residence on their identity card. In 2009, Bethlehem University student Berlanty Azzam was detained at a West Bank checkpoint and taken without trial to Gaza, bound and blindfolded.
Berlanty petitioned the Israeli high court to overturn the decision, so she could return to Bethlehem for her final semester of a business degree. Her petition, however, was overturned.