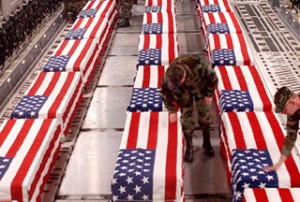 Three US soldiers have been killed in attacks in Afghanistan's violent south, says the International Security Assistance Force (ISAF) in the war-torn country.
Two of the soldiers were killed on Wednesday during a raid on a patrol in the south, ISAF said in a statement, adding the third was killed in a separate hostile attack.
The US military confirmed those killed were all American nationals but did not reveal details on the whereabouts of the attacks.
The new deaths take the increasing death toll for foreign troops in Afghanistan to 50 in August, according to figures released by the independent icasualties.org group.
The coalition forces suffered 76 deaths in July, experiencing the bloodiest month in Afghanistan since the US-led invasion in 2001.