Lebanon
Thursday, January 29, 2015 2:45 PM Hezbollah Describes Shebaa Farms Operation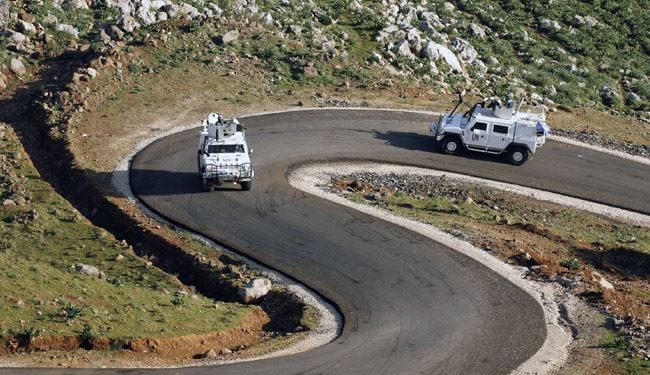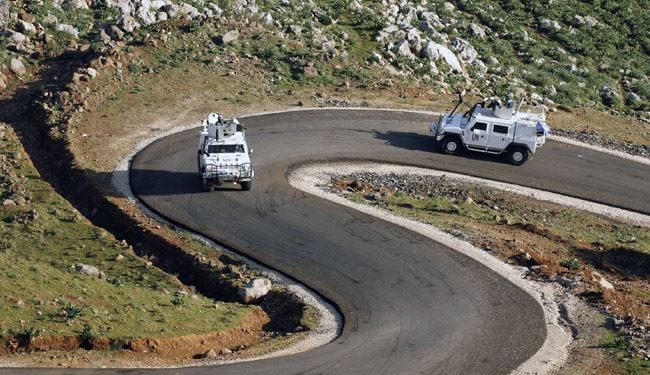 The Islamic resistance in Lebanon targeted an Israeli convoy of nine vehicles in occupied Shebaa Farms on Wednesday, killing and injuring a large number of Israeli soldiers, AL-Manar reports.
Media outlets initially reported the operation, saying an anti-tank missile hit a vehicle in the Shebaa Farms.
Israeli Channel 10 pointed out that the Israeli targeted convoy included a number of Israeli military commanders who were inspecting the area.
In details, the resistance could penetrate all the Israeli security measures and ambush a military convoy, launching rocketry shells toward the vehicles.
Hezbollah prepared militarily and logistically for the operation and withdrew its troops safely after carrying out the mission successfully.
Hezbollah claimed the attack, saying that an Israeli convoy was hit, leaving number of casualties.
The attack comes more than a week after an Israeli raid in Quneitra in Syria's Golan killed six Hezbollah fighters.
Hezbollah Describes Shebaa Farms Operation
"At 11:25 this morning, the Quneitra Heroic Martyrs group, of the Islamic Resistance, targeted an Israeli military convoy in the Shebaa Farms composed of several vehicles transporting Zionist officers and soldiers," a statement released by Hezbollah Media Relations said.
"Several vehicles were destroyed, and casualties were caused among the enemy ranks," the statement added.
Shortly after the attack, the occupation army announced that one of its vehicles was destroyed and that several soldiers were injured many of whom were in critical condition.
Conflicting reports emerged concerning the number of Israeli casualties. Sky News reported that 4 occupation soldiers were killed, while the Israeli Military Censor put the death toll at 2 soldiers.
According to Israeli media outlets, a battalion commander in Givati Brigade major Yuhay Klinger as well as a soldier, Dowr Nini, were killed.
Lebanese, Arab and regional political parties hailed on Wednesday the huge operation carried out by the Islamic Resistance of Hezbollah in the occupied Shabaa Farms, in retaliation for the Zionist aerial raid that targeted a Hezbollah convoy in Syria's Quneitra 10 days ago.
Lebanese Speaker Nabih Berri paised Shabaa operation and has been reported that he was following up the developments in details.
Prime Minister Tammam Slam confirmed that Lebanon stands "in one rank" behind the legitimate armed forces in their mission to defend its territories and the security of its citizens.
For its part, the Lebanese Ministry of Foreign Affairs on Wednesday sternly condemned the Zionist bombing of Lebanon which came in response to the Resistance operation.
Palestinian resistance movement of Hamas praised, in a statement on Wednesday, the military operation Hezbollah conducted against the "Israeli military convoy in the occupied Shebaa Farms."
Domestic, Syrian, iran and Palestinian political figures, also hailed the 'blessed operation' and stressed the right of Hezbollah to retaliate.
After resistance movement operation, Israeli tanks on Wednesday shelled areas of southeastern Lebanon, killing a soldier from the international forces working in the border.
The Israeli regime is not interested in a further escalation along its northern border, a government official said Thursday on condition of anonymity to Israel Radio, a day after the worst exchange of fire between Israel and Lebanon's Hezbollah since a 2006 war.
The Israel-Lebanon border remained tense Thursday amid international efforts to avoid an escalation following the worst exchange of fire between Israeli soldiers and the Iran-backed Hezbollah militia since the 2006 war.
Two Israeli soldiers and a Spanish UN peacekeeper were killed Wednesday. The violence started when Hezbollah launched anti-tank missiles at an Israeli convoy driving along the border near the village of Ghajar, on the Israeli-occupied side of the Golan Heights.
Meanwhile the telegraph reports, "Big Question: On edge after Hizbollah's attack on an Israeli army patrol yesterday, both sides are weighing their options".
Hizbollah decided to launch a smaller-scale retaliatory attack, instead of a large-scale escalatory operation. This should be viewed as a signal by Hizbollah of its apparent reluctance to engage in an all-out war with Israel.
After Wednesday's border attack, Hizbollah apparently signaled to Israel via the UN peacekeeping force in Lebanon that they seek calm and are content not to escalate further, indicating that they view their latest border attack as having fulfilled their criteria for retaliation for the Israeli air strike two weeks ago, a government official said Thursday on condition of anonymity to Israel Radio.
Israeli war Minister Moshe Ya'alon also claimed that Israel has received a message from the Lebanese group Hezbollah that it was backing away from further violence. Yaalon said on Thursday that Israel received the message through the United Nations peacekeeping force in Lebanon (UNIFIL), saying that Hezbollah was not interested in further escalation.
Lebanese sources reported Thursday that Hezbollah's cross-border strike on Wednesday was intended to hurt a senior IDF officer. They claimed the size of the convoy pointed to the fact that a high-ranking Israeli was present and thus the cell, which included no more than five militants, decided to open fire, Israeli "ynetnews.com" reported.