Palestine
'Tied up naked, without food for three days:' ex-Palestinian prisoner recounts ordeal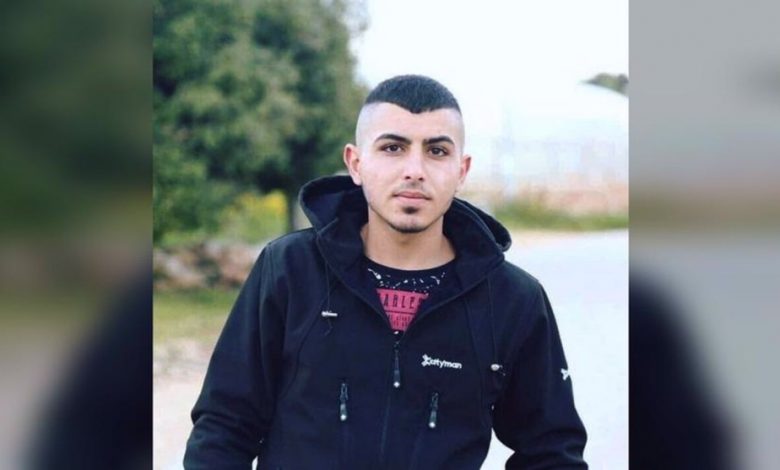 A former Palestinian prisoner has spoken out about the "physical and psychological torture" he endured in Israeli jails, saying he was "tied up naked" and left without food for three consecutive days.
Abdul-Khaliq Burnat made the revelation in an interview with Robert Inlakesh, a journalist, writer, and political analyst who has lived in and reported from the occupied Palestinian West Bank, the outlines of which was published in an op-ed by Russia's RT news channel on Tuesday.
Burnat, a 21-year-old Palestinian from the West Bank village of Bil'in, was first imprisoned as a minor for 13 months in 2017, six months of which he was held in administrative detention without charge.
During the 11-day war between Gaza and the Tel Aviv regime in May, Burnat was kidnapped by Israeli forces late at night and held in the notorious interrogation facility of Moskobiya.
"You cannot imagine this life, for two months I was held and it was constant questioning followed by isolation and physical as well as psychological torture. For what? What was the reason they took me? I didn't do a thing and they didn't even charge me at all, they eventually just let me go," Burnat was quoted as saying by Inlakesh.
Detailing the torture methods he experienced at the Moskobiya detention center, the Palestinian said, "They shouted at me, beat me with their fists, slapped me and used tools. I was restricted with a plastic zip tie which cut into my wrists, whilst I was strapped to a chair in a stress position for 20 hours of the day."
Burnat added, "For three days straight, they had me in a smelly, tiny cell; it was so cold in there and there wasn't any light, I was stripped of all my clothes for the whole time and tied up naked, they didn't give me any food and I couldn't even use the bathroom."
"For the whole time in there I wasn't allowed to talk to anyone except the Israeli intelligence interrogators. They would just leave me in stress positions whilst freezing me and returning to beat me and ask more questions. I wasn't allowed to speak to my family or friends at all. I had nothing in the dirty cell, just a toilet and bed. The food they fed us was animal food, not even human food."
The Gaza war began on May 10 and lasted until May 21, when the Israeli regime announced a unilateral ceasefire, which was accepted, through Egyptian mediation, by Palestinian resistance groups.
The war was sparked by weeks of Israeli violence in al-Quds against Palestinian worshipers at the al-Aqsa Mosque and the regime's attempts to grab more Palestinian lands in the Sheikh Jarrah neighborhood.
The 11-day Gaza fighting resulted in the deaths of 256 Palestinians, including 66 children and 40 women, according to the UN. Israel's airstrikes also brought widespread devastation to the already impoverished territory.
Burnat was quoted by Inlakesh as saying that he and his brother were taken to the detention facility amid the 11-day conflict and when "Gaza was being bombed and the children and women were being killed," Israeli interrogators "were constantly talking to me about this and laughing about it."
"They would update me on who was killed, innocent civilians, and they would laugh in my face telling me that they didn't care who was killed," he added, also quoting one of the Israeli interrogators as saying, "We can kill anyone in Gaza… if we want. We can kill you too, this isn't a problem for us, nobody cares about you dirty Arabs."
During the interview, Burnat also highlighted the suffering of female Palestinian prisoners in Israeli jails and said, "What they are doing now to the women prisoners is a crime."
"How can this be justified and why are people still silent? Innocent women and men are taken and abused, but nobody wants to ask anything about it, it's like we don't exist to them," he said.
It is estimated that up to 700,000 Palestinians – 10,000 of them women – have been detained by Israel since 1967.
Female Palestinian inmates held in a 'stable for animals'
Inlakesh quoted Charlotte Kates, a coordinator of a prisoner advocacy group, as saying that "most Palestinian female prisoners are held in Damon Jail, a notoriously ill maintained prison, formally a stable for animals."
Kates said Israeli guards in Damon Prison, which is located near the city of Haifa, had raided women's cells for several days and "physically abused women."
"One woman had the Hijab pulled from her head and some women lost consciousness, they are also demanding the transfer of women in the middle of the night to other cells," she said.
Kates said the Israeli guards had adopted these methods in response to protests by the women against the oppressive measures of the prison authorities.
"For the past three months, they've not been allowed any family visits, they were promised phone calls but instead endured vicious attacks by Israeli guards," she added.
Palestinian resistance movement Hamas and other political groups have denounced brutal measures against female prisoners as well as male inmates as a "red line" that has been crossed, threatening to retaliate.
More than 7,000 Palestinians are reportedly held in Israeli jails. Hundreds of them have apparently been in "administrative detention." Some prisoners have been held that way for up to 11 years.
Palestinian detainees have continuously resorted to open-ended hunger strikes in an attempt to express their outrage at the practice.
The United Nations and the International Committee of the Red Cross (ICRC), as well as many human rights group, have frequently expressed serious concern about hunger strikers' health conditions and call for their immediate release.