Asia-Pacific
Korea
North America
Time running out for US to restart talks: North Korea
A senior North Korean diplomat says the United States does not have much time left to develop a new strategy to revive talks with Pyongyang about the demilitarization of the Korean Peninsula.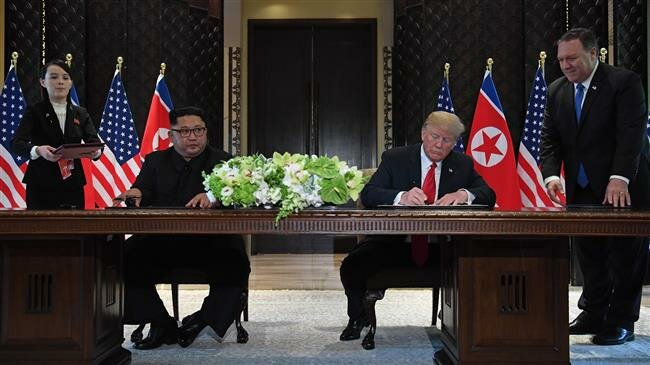 The US and North Korea had been negotiating over the matter since last year, when a rapprochement initially emerged between North and South Korea and later led to a diplomatic opening between Pyongyang and Washington.
But the talks stalled after the second summit between North Korean leader Kim Jong-un and US President Donald Trump ended without an agreement in February. The summit failed reportedly after Trump rejected a North Korean proposal.
Ever since though, there have been signals from the US that it is willing to revive talks.
Kwon Jong-gun, the director-general for US affairs at the North's Foreign Ministry, said on Thursday that talks would not restart on their own.
"The dialog would not open by itself though the US repeatedly talks about resumption of dialog like a parrot without considering any realistic proposal that would fully conform with the interests of both sides," Kwon said.
"Negotiation should be conducted with a counterpart who has a good sense of communication, and it could also be possible only when the United States comes up with a proper counterproposal," he said.
Kwon made the remarks ahead of a visit by Trump to the South Korean capital of Seoul.
Stephen Biegun, the US special envoy for North Korea, who has led working-level talks with the country, is also set to arrive in Seoul ahead of Trump on Thursday.
On Wednesday, South Korean President Moon Jae-in said the US was in "behind-the-scenes talks" with North Korea over a possible third summit between Kim and Trump, although Pyongyang later denied any such engagement with the US.
In his Thursday remarks, Kwon, the North Korean official, said South Korean authorities were trying to "make their presence felt" by posing as a mediator.
He admitted that dialog between Pyongyang and Washington "would not open by itself" but added that if the North had to contact Washington, it would use "the liaison channel already under operation."
"The South Korean authorities have nothing to meddle in," he added.