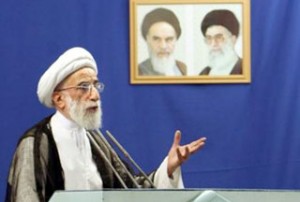 A senior Iranian cleric said on Friday that without "divine assistance" Abdolmalek Rigi "the villain" would have never been arrested.
Tehran's Interim Friday Prayers Leader Ayatollah Ahmad Jannati thanked security forces for arresting the notorious Jundallah ringleader and said that without divine help such a victory in arresting Abdolmalek Rigi alive would have never been made possible.
Abdolmalek Rigi was captured by Iranian forces on Tuesday. He was aboard a passenger jet flying to Kyrgyzstan from the UAE when his plane was grounded in the Iranian city of Bandar Abbas.
The Jundallah group has claimed responsibility for numerous terrorist attacks in Iran. The group has carried out mass murder, armed robbery, kidnappings, acts of sabotage and bombings inside Iran.
Elsewhere in the sermon, Ayatollah Jannati thanked the Iranian nation for its participation in the 22 Bahman (February 11) demonstrations — which marked the 31st anniversary of the victory of the Islamic Revolution.
"With your participation you announced that you have not forgotten the pledge that you made to the late Imam [Rouhollah Khomeini] and the Leader of the Islamic Revolution [Ayatollah Seyyed Ali Khamenei] …. With your participation you safeguarded the power of Islam and the establishment and this participation was a national show of power."
"Your participation in the 22 Bahman demonstrations told the heads of the global arrogance and oppression that we are not afraid of sanctions and we are believers in the rule of the Just Jurisprudent and will obey him," he added.
Ayatollah Jannati also addressed the people he termed as "seditionist" and said "If you are not American or Israeli why are they praising you, you who utter the name of Imam [Khomeini]… what has happened that America and Israel that throughout these past 31 years have never respectfully referred to the Imam … are now acting as your friends? Wake up."
He added that the silence of the elite means that they are counter-revolutionaries. "If you do not consent to such incidents why did you not object to the rioters and did not try to advise them [against such behaviors]?" the senior cleric asked.