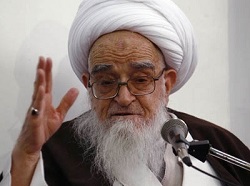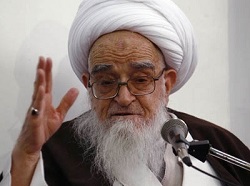 The Islamic Jurisprudent, Ayatollah Lotfollah Safi Golpaigani rapped opening Hojr ibn Udayˈs tomb.
In his recent message of opprobrium, Ayatollah Lotfollah Safi Golpaigani leveled criticism at destroying the holy tomb of great disciple of Messenger of Allah (PBUH) and Emir of the pious Imam Ali (PBUH) by terrorist opponents of Syrian system, reported Taqrib News Agency (TNA).
The terrorist grouplet ˈJibhat un-Nasrˈ issuing a communiqué Friday accepted the responsibility of opening the holy grave and destroying the tomb of Hojr ibn Uday, the great disciple of both the Messenger of Allah (PBUH) and the Emir of the Pious, Imam Ali (PBUH).
Jibhat un-Nusra has also emphasized in the communiqué that it would continue making such moves aimed at destroying the other holy mausoleums in Syria.
The religious scholar, in this regard, slammed the heinous act aims at defying holy concepts and underscored such measures committed patently by the puppets of Zionism.
Ayatollah Safi Golpaigani underscored no castigation can commensurate with such heinous act and no pretense can be accepted in this regard.
Qom seminary instructor also urged educational and Islamic bodies to stand against such brazen measures.