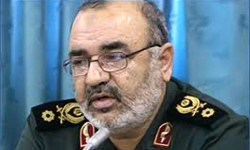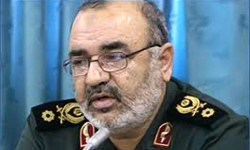 Lieutenant Commander of the Islamic Revolution Guards Corps (IRGC) Brigadier General Hossein Salami lashed out at the NATO for its recent decision to deploy Patriot missiles along Turkey-Syria border, describing it as an ominous sign for the regional countries' independence.
"Basically speaking, entry of any new system by the trans-regional military forces in the region is harmful for the region's security and will result in arms race among states," General Salami said, addressing a geography seminar in Tehran on Tuesday.
"This will stir tension and conflict in the region and is not good a sign for the governments and nations of the region and it should be prevented," he added.
On Saturday, Chief of Staff of the Iranian Armed Forces Major General Hassan Firouzabadi also lashed out at NATO's decision to deploy Patriot missiles along Turkey's border with Syria, and described it as a plan to defend Zionists.
"Patriot missiles are a defense line for the Zionists and a result of (the West's) concern over Iran's missiles and Russia's presence to defend Syria," Firouzabadi said.
He stated that the deployment of NATO Patriot missiles along Turkey's border with Syria can pave the way for a world war, and added, "Unfortunately one by one, the Western countries are approving deployment of Patriot missiles to Turkey's border with Syria while they are planning a world war which is very dangerous for the future of humanity and Europe itself."
On December 4, NATO approved Turkey's request for the deployment of Patriot surface-to-air missiles along its border with Syria.
Meantime, people in Turkey took to the streets and hold massive rallies across the country during the past few weeks to show anger at the possible deployment of NATO's Patriot missiles along their country's border with Syria.
The protesters, who carried placards in condemnation of the Turkish government's demand for the deployment of the NATO Patriot missile systems, set the US and NATO's flags ablaze.