Iran
Top Commander: Enemies Never Dare to Attack Iran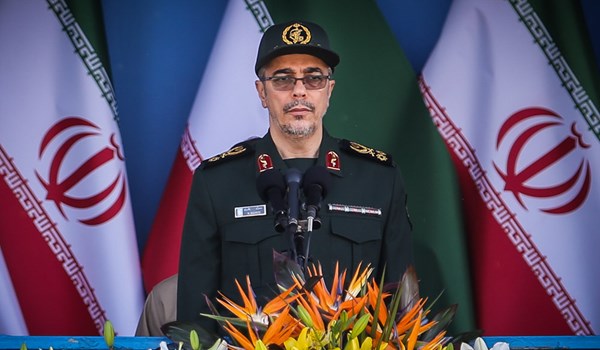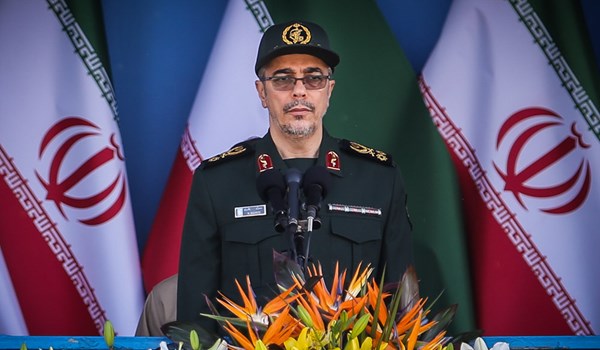 Chief of Staff of the Iranian Armed Forces Major General Mohammad Baqeri said enemies do not dare to attack his country due to its high defense capabilities and preparedness.
"Enemies do not have the courage to attack Iran militarily and they have resorted to espionage and cultural measures more," General Baqeri said in a meeting with senior cleric Grand Ayatollah Hossein Nouri Hamedani in the Central city of Qom on Monday.
He underlined Iran's good situation and progress in defense industries, and said, "At present, over 80% of military equipment needed by our country's Armed Forces is manufactured inside Iran."
General Baqeri said that the Iranian Armed Forces have also registered good performance in playing advisory role in Iraq and Syria in war on terrorism.
In relevant remarks last April, General Baqeri stressed that the Iranian Army and the Islamic Revolution Guards Corps (IRGC) were prepared with their maximum power to defend the country.
Today, the Armed Forces, specially the mighty Army and the hero IRGC, are on the peaks of unity, integrity, coordination and all-out defensive preparedness to establish sustainable security and continued tranquility, General Baqeri said.
He added that the Army and the IRGC's might and power had disappointed the enemies of the Iranian nation, specially the US, the Zionist regime and the Saudi regime.
Also, late in January, General Baqeri stressed that his country could change its defensive approach to offensive if its interests are endangered by enemies.
"Of course, we do not have any greedy eyes on other countries' interests and soil but it is possible that we adopt an offensive approach to protect our interests to make foreigners keep thoughts of aggression against our country's interests away even from their minds by witnessing impacts," General Baqeri said, addressing a meeting in Tehran.
He added that the Islamic Republic would not sit idly to let enemies endanger the country's tranquility and security as well as the nation's interests, and said the Iranian Armed Forces had changed the nature of their military drills in the Strait of Hormuz, the Persian Gulf, the Sea of Oman and on the ground and in the air, "to get prepared for enforcing these changes in tactics, if necessary".