Iran
Middle East
Top Commander: Iran to Resume Naval Patrolling Missions in Red Sea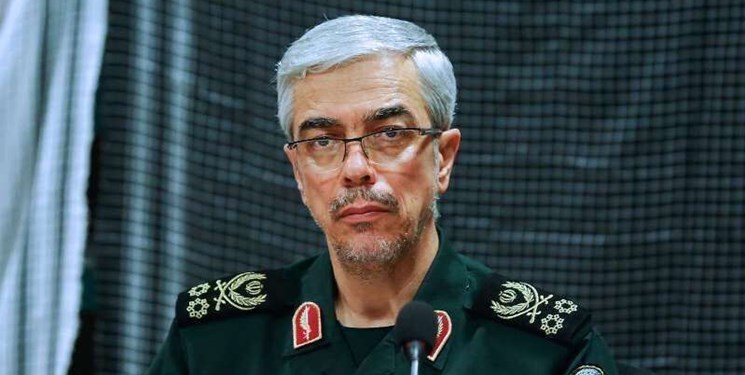 Chief of Staff of Iran's Armed Forces Major General Mohammad Hossein Baqeri announced the country's plans to resume naval patrolling missions in the Red Sea.
"We will resume naval missions in the Red Sea, where our commercial vessels have recently been facing some harassment," General Baqeri said on Wednesday, addressing a ceremony to start two-day massive naval drills dubbed Eqtedar (Might) 99 in the Southern Makran shore, along the Sea of Oman.
The top General underlined that the Islamic Republic's Armed Forces will definitely ensure the full security of the country's tankers and commercial ships in those waters.
"The Armed Forces of the Islamic Republic of Iran will not allow any enemy to undermine the security of its vessels," he stressed.
General Baqeri noted that the country's defensive might in the international waters is clearly visible now as "we see that Iran's oil tankers and commercial vessels, despite all the threats, move to the furthest points, such as the Caribbean coast in Venezuela with full security and peace under the proud flag of the Islamic Republic of Iran."
The two-day naval drill dubbed Eqtedar began on Wednesday in the Southeastern region of Makran Coast and the Northern Indian Ocean while a home-grown giant vessel, Makran, was delivered to the Navy.
In the first phase of the exercises, the Army's surface, subsurface and flight units were expanded to the general area of the war-game to continue their specialized exercises according to the specified scenario.
The huge warship Makran is a domestically-manufactured helicopter carrier that can be used for logistical purposes in support of the naval forces' maritime missions.
The wargames were attended by General Baqeri, Army Commander Major General Abdolrahim Mousavi, and other senior commanders.
According to Navy Commander Rear Admiral Hossein Khanzadi, Makran can carry seven helicopters and can support the Navy's missions in farther waters, such as the Northern part of the Indian Ocean, the Bab al-Mandab Strait, and the Red Sea.