Iran
Top General: IRGC, Army One Hand against Global Arrogance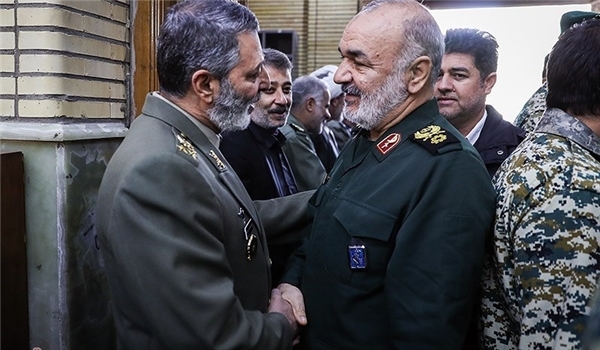 Commander of the Islamic Revolution Guards Corps (IRGC) Major General Hossein Salami said that the IRGC and Army form a united front in fighting the global arrogance while bolstering deterrence against the enemy.
"Despite enemy's animosity against the Islamic Republic of Iran, IRGC and Army forces of the country have joined their hands together and will not hesitate to strengthen all-out 'deterrence and might' of the country," Salami said in a statement on the occasion of April 17, the Army Day in Iran.
He congratulated the auspicious occasion to the Commander of Iran's Army Major General Seyed Abdolrahim Mousavi.
On April 14, Commander of the Iranian Ground Force Brigadier General Kiomars Heidari said that although the Army Day parades have been cancelled across Iran due to the coronavirus epidemic, the Ground Force will unveil new equipment, including tools to diagnose and confront coronavirus, and military equipment like Kian-500, Kian-600 and Kian-700 vehicles and anti-armor missiles.
The Iranian Armed Forces have been actively involved in anti-coronavirus activities across the country.