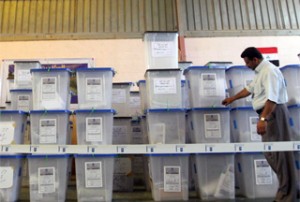 Iraqi authorities say the leading blocs in the country's parliamentary elections are separated by a slim margin of one or two seats.
According to head of Iraq's Independent High Electoral Commission Faraj al-Haidari, Prime Minister Nouri al-Maliki's coalition narrowly trails the bloc led by former Prime Minister Ayad Allawi with 95 percent of the votes counted so far.
Al-Haidari also told AP on Thursday that vote tallying is complete and the commission will sort through electoral complaints before announcing full results on Friday.
The candidates will then have three days starting Saturday to appeal the results.
The commission has already rejected calls by the Iraqi prime minister and president for a manual recount of the votes.
Hundreds of Iraqis took to the streets in the southern city of Basra on Wednesday, to demand the nationwide recount of votes from the country's March 7 parliamentary elections.
While none of the political parties in Iraq has the majority to independently form a government, talks are reportedly underway between the blocs to form a coalition government.