Iran
Middle East
Top IRGC Commander: White House Fate Under Impact of Iran's Political Decisions
Commander of the Islamic Revolution Guards Corps (IRGC) Major General Hossein Salami said that Washington cannot go ahead with its plan in the West Asia region as its schemes are doomed to fail, and added that Iran plays a key role in the political decisions of the United States and the fate of the White House is affected by Tehran's attitude.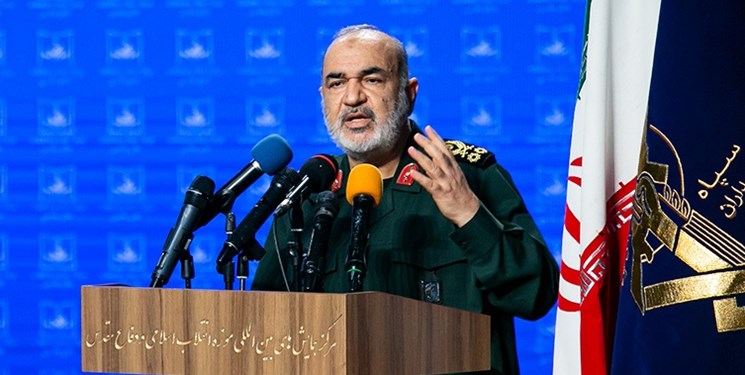 Speaking at a Basiji professors' gathering in Mashhad on Tuesday, Maj. Gen. Salami said that "Iran's political decisions have a defining role in the United States elections and the fate of the White House is influenced by the Imam Khomeini Hussainia", where the Supreme Leader holds public meetings and delivers speeches.
"The US has 50 percent of the world's military power but it is facing many internal problems," he added.
The senior commander said certain videos circulating online show the "collapse of humanity" in the United States.
"There is no one to pay attention to the [people's] problems," he continued, adding that many European countries also face similar problems.
"Today, the US cannot implement whatever plot it has in the region and its plots will definitely fail," the IRGC commander stressed.
Elsewhere in his remarks, Major General Salami maintained that Iran is a frontrunner in many technologies, saying, "We have even surpassed the world's top powers in the field of air defense, to the extent that some superpowers are buying our weapons and offering joint cooperation [with Iran]."
"Iran has the top rank in many technologies in a way that even some great powers are purchasing Iranian arms and offering cooperation," the top commander noted, adding that Iran has exceeded great powers in air defense.
"Building modern systems has been as easy as manufacturing bicycles for us today," Salami said.
"Today, the accuracy of our weapons in hitting fixed and mobile targets is 100%," the senior commander stated, noting that Iranian drones are capable of hitting any target they want.
General Salami added that "Iran won't be happy if the sanctions are lifted and won't be upset if they're kept because the country is independent".
He stressed that sanctions have caused few difficulties for Iran, emphasizing that the country enjoys great capacities and potential and is able to overcome all of its problems by relying on its beliefs and the guidelines of Leader of the Islamic Revolution Ayatollah Seyed Ali Khamenei.
Iranian officials say what the enemies and ill-wishers had predicted on the fate of the Islamic Republic has not materialized, adding that the Islamic establishment has come from strength to strength.
Back in August, President Seyed Ebrahim Rayeesi noted that the Iranian nation's progress has made it stronger compared to the past, while the enemies have grown weaker.
"The Islamic Republic of Iran is now stronger than ever and our enemies are weaker than ever befor," he stated in a meeting with the defense ministry officials.