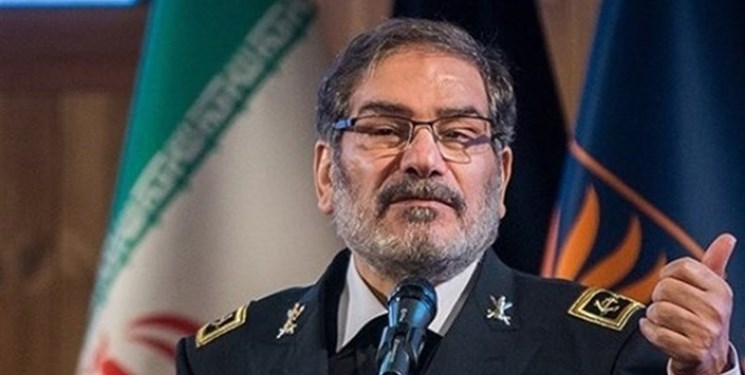 Secretary of Iran's Supreme National Security Council (SNSC) Ali Shamkhani described remarks by US President Joe Biden and Israeli Prime Minister Naftali Bennett during their first meeting as an illegal threat against Iran which gives Tehran the right of reciprocal response by every available means.
"The first meeting between Bennett and Biden and the emphasis on using Other Options against Iran, while being an illegal threat to another country, establishes the Islamic Republic of Iran's right to reciprocal response by available options," Shamkhani wrote on his twitter page on Saturday.
His tweet came after Biden told Bennett in his White House talks on Friday that he was putting "diplomacy first" to try to rein in Iran's nuclear program but if negotiations fail he would be prepared to turn to other unspecified options.
Top commanders of the Iranian Armed Forces have always warned enemies against making a mistake and aggression against Iran.
In relevant remarks earlier this month, Commander of the Iranian Army Major General Abdolrahim Mousavi stressed that his forces and their military equipment are at the highest level of preparedness to confront and respond to any threats by enemies.
General Mousavi made the remarks, addressing a ceremony in Tehran, attended by the Army ground forces units which was also broadcast live for the other army ground force units across the country through video-conferencing.
"The Army of the Islamic Republic of Iran is at the highest level of its combat readiness and will stand firm against any threat and will completely carry out its mission," he said.
General Mousavi pointed to the army's activities in the country alongside its main duty which is protecting the country's territorial integrity, saying that the Iranian military has been with the people at the time of natural disasters, including earthquakes, water shortages and floods as well as the coronavirus epidemic.
"Today, the army's ground forces are present on the western and eastern borders of the country, and wherever these army devoted forces are stationed, security is fully established. Also, in terms of equipment, the army ground force is in a good status, which has been able to stand on its own feet with its strong and hardworking manpower," he underscored.
Also, early in August, Commander of the Islamic Revolution Guards Corp (IRGC) Major General Hossein Salami underlined that Iran's response to the threats waged by enemies against the country will be devastating and will make them feel regret.
"We warn them (enemies) to learn from the past and know that our response to enemies' threats will be more destructive and regrettable," General Salami said.
"Ever since the Islamic Republic of Iran was established successfully, enemies left no stone unturned and made their utmost efforts to take advantage of events that sometimes took place inside the country in the fields of water or electricity shortages and similar issues."
"We are in the process of transferring the government which differs from the power transfer that takes place in the United States, and this transition of government in Iran is dignified, healthy and peaceful, and we are going through the political process," General Salami added.