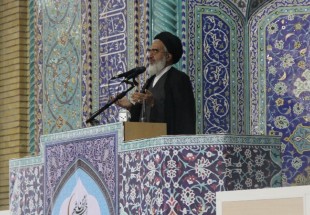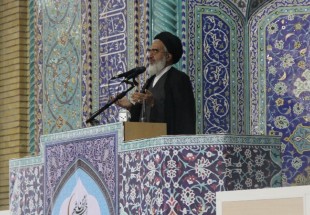 Ayatollah Sayyed Mohammad Sa'idi said today if the Al Saud and the Al Khalifah regimes deviated and committed bitter crimes not only against Islamic society, but also human society.
The custodian of the Holy Shrine of Lady Fatimah al-Ma'sumah said if today Benjamin Netanyahu offered his appreciation and thanks to the Al Saud over their prohibition of the participation of Iranian pilgrims in the Hajj is because the Saudis have separated themselves from the guardianship of Imam Ali and tied themselves to the guardianship of the tyrants.
He added that when the tyrants praise a man it means that he is the guardian of the tyrants. The message of Ghadir Khumm is a message of sympathy, brotherhood and hatred of the enemies but the message of the enemies of Ghadir Khumm is the propagation of dissension among Muslims and the believers and adherence to the United States and Israel.
Ayatollah Sa'idi referred to external developments and said that the "mother of corruption of the century" is the criminal American government and added that the US is a major contributor to the sedition and corruption occurring throughout the world. For this same reason, the Chinese humiliated Barack Obama during his recent visit to China for the G-20 summit.
"The arrogant temper of the US has spread everywhere with their corruption," he said.
His Eminence said that one of the places where the sedition and corruption of the US has caused oppression and harassment is the Islamic Republic of Iran and added that the animosity of the United States with Iran will not end. This fact is employed in the speeches and posturing by Obama and American officials against Iran.
"This has also been seen in the speeches by the two controversial American presidential candidates," Qom's Friday prayer leader said.
Ayatollah Sa'idi added that both Donald Trump and Hillary Clinton speak ugly and undignified words against each other in public forums but despite their hostility toward each other, both of them are united in their mutual hostility toward Iran.
His Eminence noted that the American Congress approved recently passed a bill which prohibits the US from making cash payments to Iran said added that the Americans' disloyalty over the JCPOA is further evidence of this claim.