North America
Trump Lacks Mental Capacity, Congress Should Intervene: Mental Health Expert
US President Donald Trump was highly criticized for assassinating Iran's head of the IRGC Al-Quds Force General Qassem Suleimani in Iraq, with multiple veteran newspapers and media outlets terming his action a the most dangerous gamble yet since he was sworn in to office.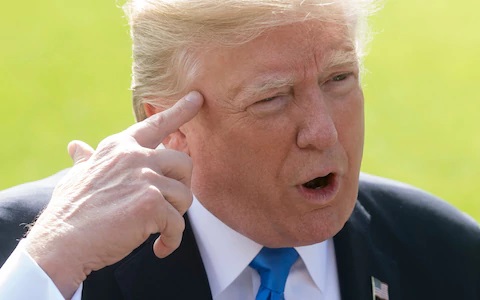 Away from all political accusations against the US President, reports went deep into analyzing his "unrestrained behavior in office."
A prominent psychiatry expert said earlier this month that Donald Trump's order to kill General Suleimani was a sign of the US president's deteriorating mental state and called on the House Speaker Nancy Pelosi to urgently intervene.
Who's Lee?
Bandy X. Lee, a professor of psychiatry at the Yale University School of Medicine, founded the World Mental Health Coalition after convening a conference at Yale on the president's mental health. She is the editor of the book "The Dangerous Case of Donald Trump: 27 Psychiatrists and Mental Health Experts Assess a President" and more recently was joined by psychiatrists at universities around the US in calling for the House of Representatives to convene a panel of mental health experts to weigh in on the president's impeachment proceedings.
"I am beginning to believe that a mental health hold, which we have tried to avoid, will become inevitable.," she said.
Following Suleimani's assassination, Lee said that the president's decision to order the strike in Baghdad was further evidence that Pelosi should do more to rein in Trump.
"This is exactly the kind of dangerous event we foresaw as Donald Trump's response to the impeachment proceedings, just as his pulling troops from northern Syria was a direct response to the announcement of an impeachment inquiry," Lee said.
"This was why more than 800 mental health professionals petitioned Congress to consult with us, since, without intervention, this kind of crisis was a matter of time, not just a possibility."
Lee said Trump's actions were "exactly what someone who lacks mental capacity would do."
"In other words, he is extremely drawn to actions that would help him appear as if he has mental capacity, such as a 'presidential strike' against an enemy, while avoiding the proper procedures, such as briefing with Congress, that might expose his lack of capacity," she said, as quoted by Salon.
"What we do not expect from someone who lacks mental capacity is rational, reality-based decision making that is non-impulsive, non-reckless, and cognizant of consequences."
Trump Mental Health Based on Mueller Report
Back in July (2019), Lee herself learned a lot about Trump's mental state from the report documenting the findings and conclusions of former Special Counsel Robert Mueller's investigation into Russian efforts to interfere in the 2016 United States presidential elections.
"What we found through Mr. Mueller's report was alarming," Lee stated in the video below, conducted by Now This news organization.
"The president failed every criterion for rational and reality-based decision-making capacity," said Lee.