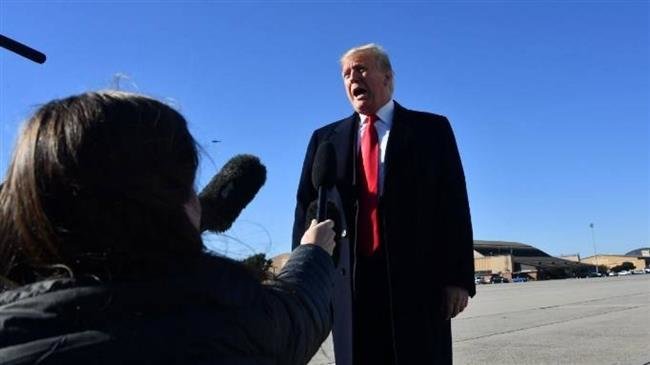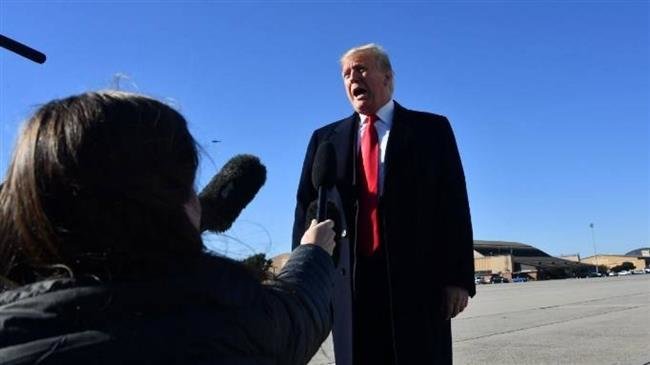 US President Donald Trump has said that Saudi Arabia, not the United States, will provide funds to help rebuild Syria, destroyed, in fact, mostly by American and Saudi sponsored terrorists.
"Saudi Arabia has now agreed to spend the necessary money needed to help rebuild Syria, instead of the United States," Trump tweeted on Monday.
"See? Isn't it nice when immensely wealthy countries help rebuild their neighbors rather than a Great Country, the U.S., that is 5000 miles away," he continued. "Thanks to Saudi A!"
The United States, France, Britain and their regional allies such as Saudi Arabia, the United Arab Emirates, Turkey and Qatar have been sponsoring terrorists in Syria since 2011 which has left the Arab country in ruins.
Syrian President Bashar al-Assad has reportedly said that he does not want foreign aid from Western countries or Saudi Arabia to rebuild the country and will get the job done with the help from Syria's genuine allies.
Last week, Trump declared victory against Daesh terrorists in Syria and announced to pull out American troops from the country, saying that US troops cannot stay in Syria "forever."
Several senators on both sides of the aisle have accused Trump of making a hasty decision, with one administration official saying "the President's decision-by-tweet will recklessly put American and allied lives in danger around the world."
Ron Paul has backed Trump's decision to withdraw American troops from Syria, adding that the US needs to "have a clean cut" with military involvement in the Middle East.
But several others, like Republican Senator Rand Paul and former congressman Dr. Ron Paul, have defended Trump's decision to withdraw the American troops in Syria, with Dr. Paul saying that the United States needs to "have a clean cut" with military involvement in the Middle East.
'Trump shirks US responsibility for Syrian reconstruction'
Commenting on this, independent lawyer and political analyst Barry Grossman said President Trump is shirking American responsibility for the reconstruction of the war-torn country.
"I am quite sure that, at this stage, President Bashar al-Assad will have no great problem with Trump taking the position that it is up to other nations to foot the bill of rebuilding Syrian infrastructure destroyed by US allies enabled with US weapons. After all, President Assad quite astutely said some months ago that he is not interested in the US or its allies investing in Syria's rebuild, bearing in mind that they are responsible for causing the damage," Grossman told Press TV on Tuesday while commenting on Trump's tweet.
"After all, one need only look at Japan and Germany today to recognize the price those nations paid by conceding their sovereignty and independence as part of the package deal which brought peace to the world, shiny new infrastructure to both of those nations, and, inadvertently, created powerful competitors for US industry, the latter considered by many to be a mistake we can assume the US does not want to repeat," he added.
"With the US and wider Atlantic World irretrievably in decline, there will of course be plenty of opportunity in the future, once a more equitable balance of power emerges to displace the US dominated, Atlantic World Order, to extract reparations from what remains of the USA for damage caused to Syria by US, UK, Saudi and French military intervention," he said.
"In that regard, whether they disingenuously cling to their contrived pretext of violating Syria's sovereignty and entering the fray solely to bring the fight to al-Nusra Front, Daesh and al-Qaeda, or concede that they were always in it to engineer what they call regime change, the intervention was by any informed analysis, always a violation of international law," he stated.
"The time will come, be it in 10 years or 100, when they have no choice but to pay. Until then, as President Assad has recognized, it is far better for Syria to rely on exclusively on its own resources and assistance from its genuine allies in order to rebuild, than make the very same concessions their rejection of which, led to the US instigating this war in the first place, just so Syria can receive financial assistance from the very same nations that orchestrated the destruction," he noted.
"Indeed, the concerted national effort that will be needed to rebuild, potentially can be a source of   social cohesion and sense of purpose needed for Syria to overcome the deep divisions which were so easily manipulated by Syria's enemies to create the conflict which has now all but run its course," the analyst concluded.