Asia-Pacific
Iran
Middle East
Trump phones Japan's Abe to discuss meeting with Iran president: Report
US President Donald Trump had made a phone call to Japanese Prime Minister Shinzo Abe to discuss a recent trip by the Iranian president Hassan Rouhani to the East Asian country, a Japanese government source has told the Kyodo news agency.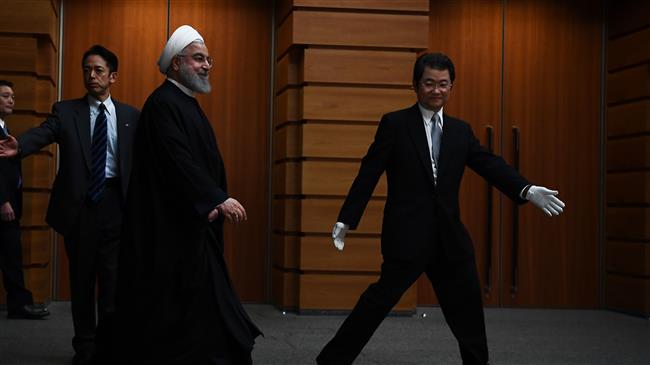 "Abe told Trump that Japan will continue diplomatic efforts to ease tensions in the Middle East by working closely with the United States," Kyodo cited the government source as saying about the phone call which took place late on Saturday.
The report said that Trump had requested the phone call which came a day after Abe met Rouhani in Tokyo, the first meeting in Japan between leaders of the two countries since 2000 and a major development that could affect a current political stand-off between Iran and the United States, the two countries with close ties to Japan.
Iran president in Tokyo, urges Japan to help rein in USJapanese prime minister is urged to keep the 2015 Iran nuclear deal alive during a meeting with Iranian President Hassan Rouhani in Tokyo.
During the phone call, which lasted for one hour and 15 minutes, Abe explained the outcome of his talks with Rouhani, said the source.
However, Abe himself refrained from mentioning Iran discussions when he briefed reporters about the phone call shortly before midnight.
Instead, the Japanese premier said he had discussed with Trump the issue of North Korea and his upcoming visit to China.
Japan heavily relies on energy imports from the Middle East while it used to be a major buyer of Iranian oil before the American sanctions were imposed on Tehran more than a year ago.
Iran welcomes Japan plan not to join US-led naval coalition in Persian Gulf: Rouhani Iran
Japan's Abe has sought to help de-escalate tensions between Iran and the US, especially since May this year when several incidents in the Persian Gulf and the Sea of Oman sparked worries about a major military conflict that could impact the safety of energy transport through the region.
The premier visited Iran in June in a historic visit that many saw as an attempt to broker a dialogue between Iran and the US.
Iran has dismissed calls for direct talks with the US, saying such negotiations would only be possible if Washington removes all of its illegal sanctions and returns to a landmark nuclear deal signed between the country and world powers in 2015.
During his trip to Tokyo, Rouhani thanked Abe and Japan for ignoring US calls to join a military coalition for policing the Persian Gulf waters, saying Tokyo should do more to help rein in the US and its unilateralist moves.