North America
Trump tells aides he wants to pardon himself in final days of presidency: Report
US President Donald Trump has suggested to aides he wants to issue an executive pardon for himself in the final days of his presidency in order to shield himself from prosecution after he leaves office, according to a report.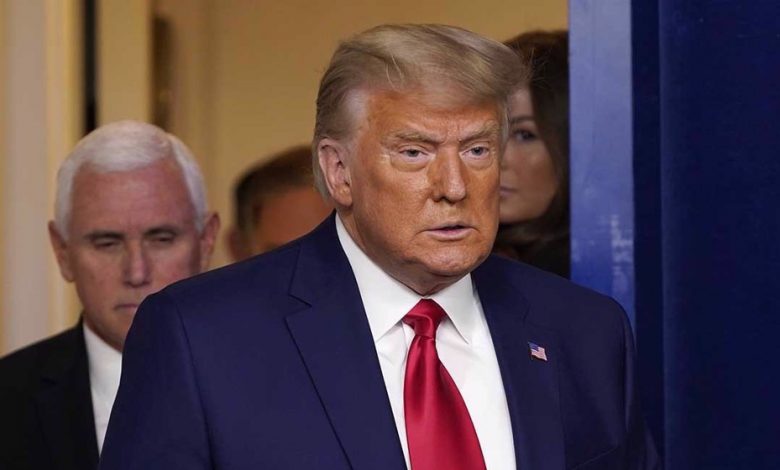 In several conversations since Election Day, Trump has told aides that he is considering pardoning himself, seeking their advice on whether he should and what the consequences would be legally and politically, The New York Times reported, citing two people with knowledge of the discussions.
Trump has long maintained that he has the power to pardon himself, and according to his advisers, the president has the very intention of following through with the move. Trump has also grown increasingly concerned and convinced that his political enemies will try to target him after he leaves the White House.
No president in US history has ever wielded the constitutional power of clemency on themselves and legal experts are divided on whether the legal system and the courts would recognize it.
It is not clear whether Trump had discussed the option with his inner circle since he incited his supporters on Wednesday to swarm the US Capitol, where hundreds of armed individuals broke into the building and clashed with police.
After the violent takeover of the Capitol building, which happened amidst the ceremonial counting of Electoral College votes to certify President-elect Joe Biden's victory, calls have grown from Democrats and Republicans in Congress as well as some Cabinet members for Vice President Mike Pence to invoke the 25th Amendment and assume the presidency.
The rioting was caused in part by Trump's rhetoric, marked by his allegations of voter fraud and refusal to concede defeat. Lawmakers, including some of the president's most ardent supporters, were incensed that Trump refused to condemn the attack even after the Capitol was breached, instead calling his diehard loyalists "very special."
That prompted members of Congress to consider the easiest way to rid a president of his powers.
"The quickest and most effective way — it can be done today — to remove this president from office would be for the vice president to immediately invoke the 25th Amendment," Senate Minority Leader Chuck Schumer said in a statement Thursday.
House Speaker Nancy Pelosi also echoed Schumer's call that the constitutional provision must be invoked. "If the vice president and Cabinet do not act, the Congress may be prepared to move forward with impeachment," Pelosi told reporters.
The development has Trump worried that the same politicians who are now calling for his removal from office days before his term officially ends, will go after him after he leaves office—by force or otherwise.
In addition to considering pardoning himself, Trump has reportedly pondered a slew of pardons for his family, including his three oldest children — Donald Trump Jr., Eric Trump and Ivanka Trump—and his son-in-law and senior White House advisor Jared Kushner.
In recent weeks, the president has pardoned dozens of people, including some of his closest allies such as his former campaign chairman Paul Manafort, Republican operative Roger Stone and Charles Kushner, a real estate magnate and the father of Jared Kushner.
Trump will lose immunity from prosecution upon leaving office and faces the prospect of lawsuits and criminal investigations. Presidential pardons apply only to federal law and provide no protection against state crimes.
Trump advisers believe that the president's efforts to overturn the election results and his incitement of the riots at the US Capitol have increased his criminal exposure.
Their concerns were amplified after the Justice Department said on Thursday it would not rule out pursuing charges against the president over his role in the violent attack on the Capitol building, during which four people were killed.