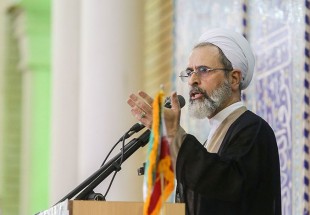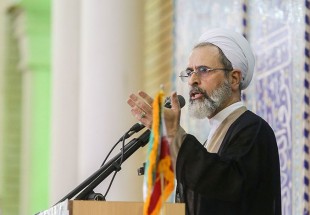 In his Friday prayer sermon to a large and fervent crowd of believers in Qom's Qods Prayer Hall, Ayatollah Ali-Reza Arafi referred to the celebration of the "Ten-Day Dawn," which celebrates the anniversary of the victory of the Iran's 1979 Islamic Revolution, and said, "In the current era, we have witnessed the demonstration of the divine light. This revolution is the radiance of divine light which shines in Iran and in the world and we must protect this great blessing and appreciate it."
The head of the Islamic Seminaries of Iran said the spirit of the Islamic Revolution is tied to religion and said, "This Revolution went against the Western analysis because they considered religion as finished until Imam Khomeini raised the flag of Islam and called people to religion."
Ayatollah Arafi said that today, the oppressors of the world are against the revolution but the oppressed of the world love this revolution. "The Western governments and enemies of our revolution are striving to contain our revolution through scientific and practical means and in this means, they have established many academic and departmental chairs to oppose it," he said.
"This is all a conspiracy against the Islamic Revolution and reflects the greatness of the efforts of the Iranian nation but most of these theories and ideas in regard to the Revolution are false," he added.
The head of al-Mustafa International University noted that the enemies are eyeing this years' 22 Bahman (11 February) rallies to restore their hope to them but this time they will be disappointed.
In other remarks, Ayatollah Arafi pointed to actions and statements made by US President Donald Trump and his advisers over the past week, including his "Muslim ban," and said, "In recent days, the US has introduced visa bans but they don't know that these actions don't have any worth for us. We aren't supposed to retreat in the face of these empty decisions."
He said that the recently-elected Trump and his assistants have spoken about Iran's recent defensive missile test and said, "The 'Satanic Front' has said a lot of nonsense but they know that the Iranian people will once again adhere to the ideals of Imam Khomeini and the values of the Islamic Revolution during the Ten-Day Dawn celebrations and that Iran won't relent in the fight against the enemies and won't negotiate with anyone in regard to strengthening its defense industry and military."
Ayatollah Arafi said that the large rally at Qom's Faydhiyyah Seminary in defence of the people of Bahrain on 29 January demonstrated the Islamic Seminary and the people of Qom's support of the Islamic Resistance and Ayatollah Isa Qasim and Shaykh Ibrahim Zakzaky.