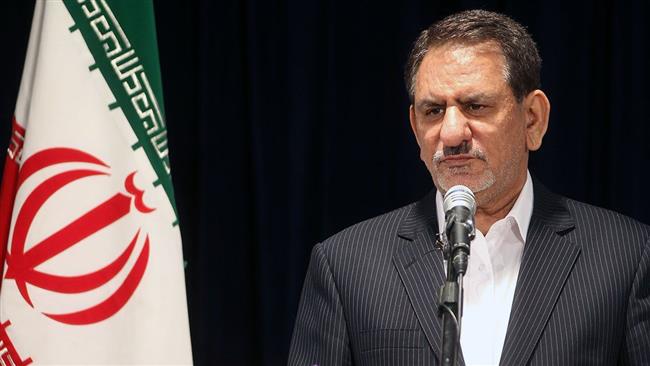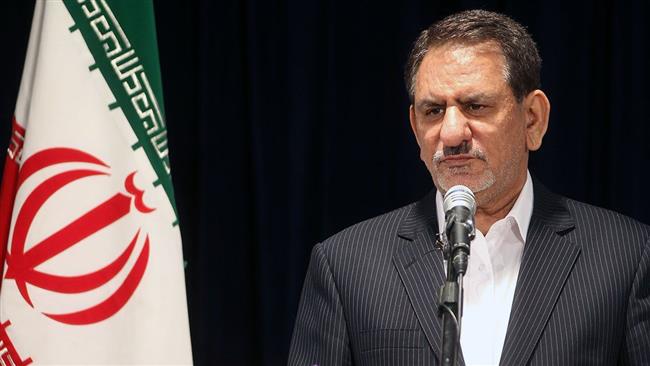 Iran's first vice president says US President Donald Trump's executive order to ban entry into the country from the Islamic Republic and six other Muslim states is "illegal, inhumane and in violation of human rights", adding Tehran will take reciprocal measures. 
"We will take a reciprocal measure regarding visa issuance for American citizens who want to travel to Iran," Es'haq Jahangiri said on Monday.
"We will support our nationals throughout the world with all means at our disposal," he added.
He emphasized that Iran would definitely pursue the issue at international organizations and once again dissect and lay bare before the world the human rights advocated and practiced by the US.
Jahangiri said Iranians are the "most civilized" people in the world and cannot be accused of supporting terrorism.
He emphasized that Iranians are themselves a victim of terrorism and are the only nation that strongly stood against terrorist groups formed with the support of the US and some regional countries to create insecurity across the region.
The Iranian nation did not allow terrorists to establish a foothold in Afghanistan, Pakistan, Syria and Iraq, the first veep added.
"We will definitely keep on the path of fighting against terrorism and will firmly support the Iranian nation's rights everywhere," Jahangiri pointed out.
Trump's executive order, issued on January 27, blocked entry into the United States for 90 days for citizens from Iran, Iraq, Libya, Somalia, Sudan, Syria and Yemen. It also suspended the entry of all refugees for 120 days and barred Syrian refugees indefinitely.
On Sunday, Ali Akbar Velayati, the senior adviser to Leader of the Islamic Revolution Ayatollah Seyyed Ali Khamenei on international affairs, criticized the new US government's controversial decision and said such moves would be detrimental to Washington.
Velayati added that Iranians are proud of the fact that they do not need to be endorsed by "unbalanced" individuals such as Trump.
Iran's Foreign Ministry also on Sunday summoned the Swiss Ambassador to Tehran, Giulio Haas, to protest against Trump's discriminatory decision.
In a meeting, director general for the Americas at Iran's Foreign Ministry, Mohammad Keshavarz-Zadeh, handed over an official letter of protest to the Swiss envoy, who represents the US interests in Tehran.
In a series of posts on his official Twitter account, Iranian Foreign Minister Mohammad Javad Zarif said Trump's decision shows the baselessness of Washington's claims of only having issues with the government in Tehran, adding that the move is the greatest gift to terrorists and their supporters.
Iran's Foreign Ministry also on Saturday censured the "insulting" decision by the new US government and vowed that Tehran would respond to the move in kind.