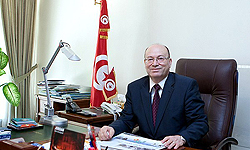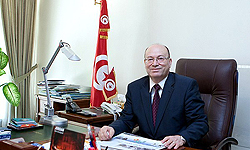 Tunisian Ambassador to Tehran Mohammad al-Hasayeri stressed Tehran's right to use nuclear technology for peaceful purposes, and urged a non-political solution to the nuclear standoff between Iran and the West.
"The case (Iran's nuclear issue) should be solved through negotiations and the international laws and if this is done, Iran's right to continue its nuclear activities under the supervision of the International Atomic Energy Agency (IAEA) will be materialized," al-Hasayeri told FNA on Monday.
He expressed the hope that Iran's nuclear issue will be settled through a negotiated, but non-political, solution, and said settlement of the problem is merely possible through serious and constructive negotiations and annulment of the sanctions imposed by the western states against Iran.
Despite the rules enshrined in the Non-Proliferation Treaty (NPT) entitling every member state, including Iran, to the right of uranium enrichment, Tehran is now under four rounds of UN Security Council sanctions and western embargos for turning down West's calls to give up its right of uranium enrichment.
Tehran has dismissed the West's demand as politically tainted and illogical, stressing that sanctions and pressures merely consolidate Iranians' national resolve to continue the path.
Political observers believe that the United States has remained at loggerheads with Iran mainly over the independent and home-grown nature of Tehran's nuclear technology, which gives the Islamic Republic the potential to turn into a world power and a role model for the other third-world countries. Washington has laid much pressure on Iran to make it give up the most sensitive and advanced part of the technology, which is uranium enrichment, a process used for producing nuclear fuel for power plants.
Iran and the world powers have held several rounds of talks this year, including two days of negotiations in Baghdad in May and a one-day meeting in Istanbul, Turkey, in April.
Iran and the Group 5+1 (the US, Russia, Britain, France, China and Germany) held their latest round of crucial talks in Moscow last month.
In Moscow Tehran's envoys presented undeniable proofs and evidence of Iran's entitlement to the right of nuclear enrichment.