Syria
Tunnel attack blows up Syrian army base in Idlib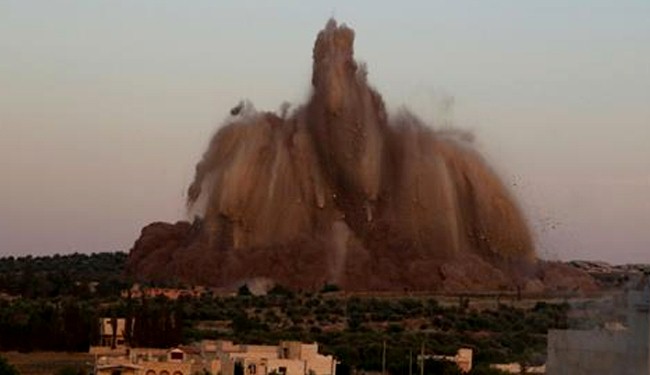 Militant groups in Syria have detonated 60 tons of explosives packed underneath a large Syrian army base, near Idlib in northwestern Syria, killing several Syrian soldiers.
The casualty toll from the blast was not immediately known, but the bombers from the militant group of Islamic Front, which is Saudi-backed group, claimed many Syrian soldiers were killed in the blast.
The attack comes as the United States has reportedly started arming militant groups with heavy weapons and anti-tank missiles to help them topple the government in the Arab country.
An Islamic Front commander said that his brigade dug a 850-meter (2,800-foot) tunnel underneath Wadi al-Deif base.
Footage provided by the group showed the ground balloon up before breaking into a cloud of earth that engulfs the area.
The commander, who spoke on condition of anonymity, said he did not know how many soldiers had been killed.
"Another attack like this and we won't even need to move in to take the base," he said via Skype.
As the army is battling foreign-backed militant groups from several countries, Syrian government is preparing to hold country's first multi-candidate presidential election on June 3.
The US and its allies have played down the election and stepped up their political and military supports to the militant groups to continue their extremist-marked war that has already killed tens of thousands of people and displaced millions of others.
Syria sank into war in March 2011 when pro-reform protests turned into a massive insurgency following the intervention of Western and regional states.
The unrest, which took in terrorist groups from across Europe, the Middle East and North Africa, has transpired as one of the bloodiest conflicts in recent history.