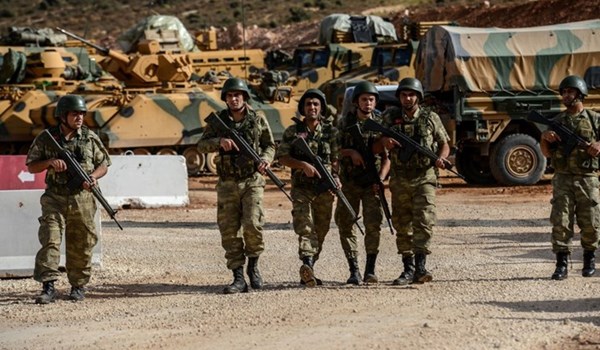 Thousands of family members of Tahrir al-Sham al-Hay'at (the Levant Liberation Board or the Al-Nusra Front) terrorists have been sheltered in areas occupied by the Turkish army in Aleppo to replace the local population.
The Kurdish-language Hawar news quoted a special source as saying on Sunday that Ankara has transferred nearly 190,000 family members of Tahrir al-Sham terrorists from Idlib city to regions stretching from Afrin and E'zaz to the towns of al-Bab, Jarabulus and al-Ra'ei in Northern Aleppo.
It added that Ankara is attempting to expel the local population in Afrin in Northwestern Aleppo seize and their lands and properties, noting that the Turkish army has so far sheltered over 64,000 family members of the terrorists in this region's towns and villages.
Turkey has been aiding the terrorist groups militarily and supporting their family members.
Relevant reports said earlier this week that Russia had warned Turkey that it would provide military support for the Kurdish militias in Northern Aleppo in case Ankara continued supplying weapons and equipment to the terrorists against the Syrian army in Idlib province.
Al-Rai al-Youm news website quoted an informed source as saying on Friday that Ankara had received a clear warning from Moscow after it extended military support for Tahrir al-Sham and other terrorist groups in attacks against the Syrian army in Northern Hama and Southern Idlib.
It added that Moscow had cautioned Ankara that in case of continued supply of weapons and equipment to the terrorists in Idlib, it would provide the Kurdish forces in Tal Rafa'at with military support.
Based on the report, the Ankara-backed Faylaq al-Sham terrorist group receives weapons, military equipment and ammunition from Turkey and supplies them among the terrorist groups in different fronts across Northern Syria.