Turkey
Turkey arrests two men over attack on soccer team bus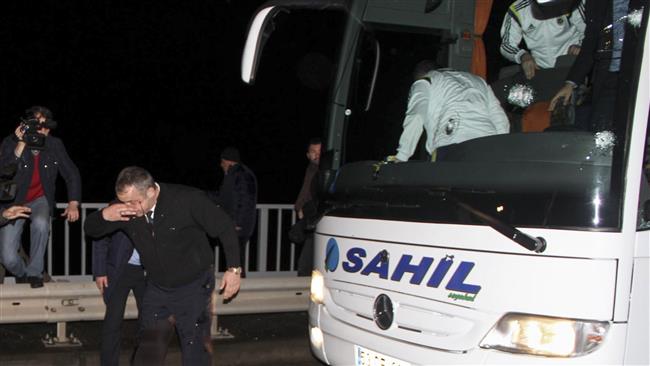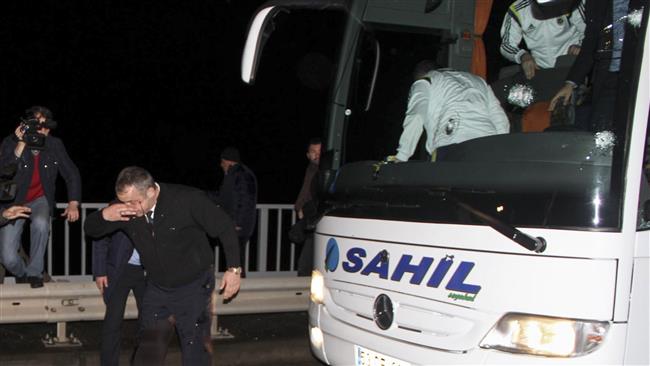 Turkish police have detained two men after the Fenerbahce football team bus was fired on by a gunman over the weekend, a regional governor says.
"Two suspects have been arrested, they are being interrogated," said Adil Celal Oz, governor of the northeastern region of Trabzon where the attack took place late on Saturday.
Gunshots were fired at the bus carrying Fenerbahce soccer team when it was traveling to Trabzon airport, following their 5-1 victory in an away match against Rizespor. The driver suffered facial wounds as a result, but the players were unhurt.
According to the official, one of the suspects shot at the bus while the other called on the phone to inform him that the bus was coming.
The two detainees have denied the charges.
Following the incident, the Turkish Football Federation (TFF) said the country's Super League matches would be suspended for one week after the Fenerbahce club called for a ban on all footballing activities until the incident was resolved.
"We believe the incident was a terrorist attack, targeting not only Fenerbahce but Turkish sports. We decided to postpone all league and cup games for a week," federation chairman Yildirim Demiroren told a news conference.
Meantime, Turkish Sports Minister Cagatay Kilic also condemned the attack as "cowardly and barbaric"
This comes as on Monday a person was also detained after allegedly making death threats against team players on the Internet.