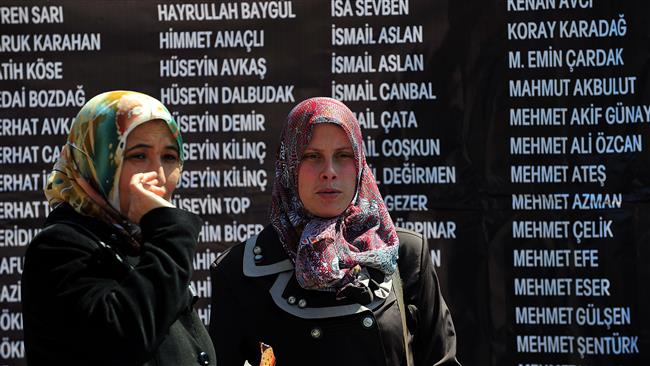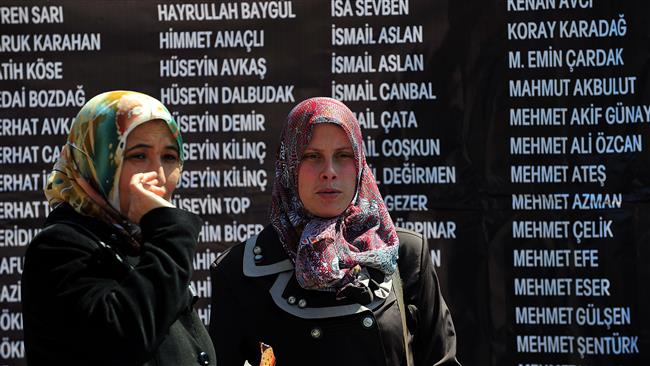 Turkey has begun the long-anticipated trial of dozens of suspects charged with murder over a mining incident in 2014, which left more than 300 people dead and threw the country into a huge shock.
A court in western Turkey began hearing the case Monday, which involves 45 people including eight top company managers who are accused of homicide and negligence over the Soma mining disaster, where 301 miners died on May 13, 2014.
However, the judges were forced to delay the trial right after its beginning as the lawyers of the victim families argued that the suspects should personally attend the court session rather than giving evidence via video links. The judges agreed to postpone the trial until Wednesday, following angry protests outside the courthouse in Akhisar, about 50 kilometers (31 miles) from Soma in western Turkey.
The managers of the Soma Komur group, who are in detention in Izmir, face sentences of up to 25 years in prison for each of the miners killed.
The incident is said to have seriously undermined the reputation of Turkey's industry while also shocking the Turkish government at the time.
Parents of the victims gathered outside the court carrying a large banner of the names of the dead miners. Hundreds of police forces were deployed to prevent any clashes.
A wife and mother of a slain miner react as police block the gate on April 13, 2015, to a special tribunal set up at a cultural center in Akhisar, western Turkey, before a trial over the 2014 mining tragedy. © AFP
"We want justice!" angry relatives shouted while cramming into the building of the cultural center in Akhisar, which was turned into a court to accommodate the scale of the trial.
"My brother died at Soma and I lost 301 brothers at that mine," said Murat Aybak, himself a former miner, adding, "I want all those who are responsible, all those who gave the orders for them to work like that to be punished for their mistakes."
The Soma disaster led to fierce protests against the government of the current president and the then prime minister, Recep Tayyip Erdogan, who was censured for his inappropriate reaction to the tragedy. Erdogan described the incident as the price Turkey was paying for its industrialization, saying "accidents are in the nature of the business." Cameras also caught a senior Erdogan advisor harshly kicking a protester in Soma, further raising the tensions over the case.
Investigations conducted after the incident found serious faults in the mine's system, while lawyers keep accusing the managers of creating "working conditions worthy of slavery" by seeking over-exploitation for the sake of profit.