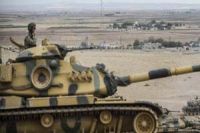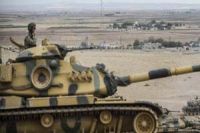 Turkey has deployed a number of tanks and armored vehicles to an area near the Syrian border.
Turkey, Israel, US, West, KSA, Jordan, Qatar, UAE and other puppet regimes are well known for their all means of support to the terrorists in Iraq, Syria. Latest developments show that another sinister plan is on way under the pretext of ISIL to destroy Syria and Iraq more.
According to reports on Monday, at least 15 Turkish tanks took position in the border town of Mursitpinar which lies just northwest of the Syrian border town of Ain al-Arab, which is also known as Kobani to the Kurds.
The Takfiri ISIL terrorists have had the strategic Syrian town under siege during the past several days.
The move by Ankara came after some bullets hit several Turkish villages in the area and were retaliated by Turkey's military.
Plumes of smoke reportedly rose up as stray fire hit both the eastern and western sides of the Syrian border town.
This is while the Turkish government has announced its decision to submit motions to parliament, requesting extended mandates for military action against(?) the ISIL(?) terrorists in Iraq and Syria.
Turkey initially refused to join the US-led coalition for fighting the ISIL terrorist group.
Since September 22, the US and its allies have been also conducting airstrikes against(?) the ISIL(?) inside Syria without any authorization from Damascus or a UN mandate. The airstrikes are an extension of the US-led aerial campaign against the ISIL positions in Iraq.