Syria
Turkey, Israel, US, West, Arab Regimes-backed ISIL enlisting Syria children to defend seized area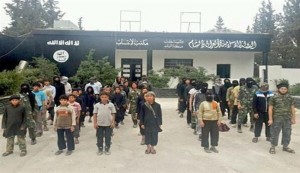 An Internet-based social media account that supports the al-Qaeda-linked splinter group so-called the Islamic State of Iraq and the Levant (ISIL) has publicized a bid to recruit minors as armed insurgents in Syria's Aleppo province.
The Twitter account this week published a photo of several rows of young boys lined up in front of a "membership office" for the terrorist group in the town of Al-Bab, The Daily Star reported on Saturday.
ISIL has occasionally been accused of recruiting underage boys into its ranks.
While ISIL has lost much of the territory it controlled in Aleppo province in the wake of a campaign against it since January by its al-Qaeda rival, the Nusra Front, and an array of other foreign-backed insurgent groups, it continues to hold on to Al-Bab, near the Turkish border.
Britain-based opposition group, Syrian Observatory for Human Rights, said on Friday that the ISIL insurgents were engaged in fierce fighting against the alliance of armed rebels in the village of Abla in northern rural Aleppo, in the latest bid to retake Al-Bab from ISIL.
The same Twitter account posted a photo of what it claimed to be a tank captured by ISIL, claiming that it was being used to attack rival insurgents.