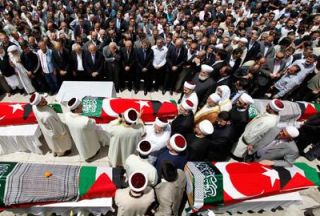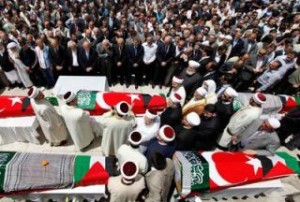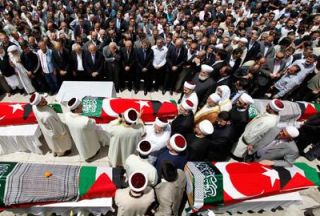 Thousands of people have attended a mass funeral procession in Istanbul to commemorate the victims of Israel's attack on the Gaza-bound Freedom Flotilla.
The mourners chanted anti-Israel slogans while carrying the coffins of eight Turks and one American who were killed during the Monday Israeli assault.
The Israeli navy attacked the Freedom Flotilla, which was carrying 10,000 tons of food and medical supplies to the Gaza Strip, in international waters more than 150 km (90 miles) off the coast of Gaza.
Turkish President Abdullah Gul said after the tragic incident Turkey-Israel ties "would never be the same again."
"Turkey will never forget such an attack on its ships and its people in international waters. Turkey's ties with Israel will never be the same again," Gul said.
"Israel made one of the greatest mistakes in its history. It will see in time what a huge mistake it made," he said.
The killings prompted the international community to condemn Israel for the inhumane attack.
Medics say they have found bullet marks on all bodies and one of the victims, American Furkan Dogan, was shot at point-blank.
He had four bullet wounds to the head and one to the chest, according to the medics.
Israel claims the aid activists were armed and attacked the commandos it had sent to seize the ships.
The survivors, however, reject Israel's claims, saying the commandos began shooting as soon as they were lowered down from helicopters.
"It was clear from the size of the force that boarded the ship that the purpose was not only to stop this sail, but to cause the largest possible number of fatalities in order to stop such initiatives in the future," said Israeli lawmaker Haneen Zuabi, who was travelling with the aid convoy.