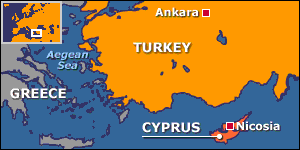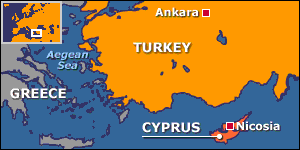 Turkey has announced that it has no plans to pay 90 million euros ($124 million) to Cyprus as ordered by the European Court of Human Rights (ECHR) in compensation for its invasion of the island 40 years ago.
On Tuesday, Turkish Foreign Minister Ahmet Davutoglu said his country sees no obligation to pay the compensation to a country that it does not formally recognize.
"In terms of the grounds of this ruling, its method and the fact that it is considering a country that Turkey does not recognize as a counterpart, we see no necessity to make this payment," Davutoglu commented.
"Yesterday's ECHR ruling consists of some legal contradictions and therefore we don't see it as at all binding, in terms of payment," he said.
The top Turkish diplomat further argued that the ECHR ruling has undermined a fresh round of UN-sponsored peace talks over Cyprus. The talks resumed in February.
"We think that this ruling has been the biggest blow to this process. If a comprehensive solution is desired, then everyone should be aware of their responsibilities. When looked at the history of this problem, the timing of this case is meaningful," Davutoglu said.
The ECHR ruling says 30 million euros ($41 million) should go to the families of people who disappeared after Turkey's 1974 invasion of Cyprus, and the rest to Greek Cypriots in the north of the divided island.
Cyprus is split between the breakaway Turkish Cypriot state in the north recognized only by Ankara and the southern Greek Cypriot state
The eastern Mediterranean island of Cyprus has been divided since Turkish troops marched into the northern part of the eastern Mediterranean island in response to an Athens-engineered coup aimed at uniting it with Greece.