Syria
Turkey Reopens Border to Syrian Refugees Fleeing Tal Abyad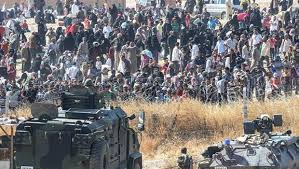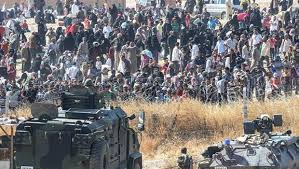 Dozens of Syrian refugees poured into Turkey on Monday after Ankara reopened the border, fleeing intense fighting between Kurdish fighters and ISIL in northern Syria.
The new flow of refugees came as Kurdish forces advance on the Syrian town of Tal Abyad, which is held by ISIL terrorists and lies just across the Turkish border.
Some 400 Syrians have been initially given permission to enter Turkey on Monday via the Akcakale border crossing, where at least 1,000 had been clustered behind barbed wire, an AFP photographer said.
In  the last week approximately 16,000 people have fled into Turkey to escape the fighting, but the border has been closed sporadically, with Ankara saying it would only allow refugees into the country in the event of a humanitarian tragedy.
Turkish authorities closed the border on Sunday after allowing in at least 3,000 people, leaving thousands of people stranded, with many spending the night outside the fence in the open.
"If Turkey accepts a new wave of refugees from Tal Abyad, it means that Turkey should be prepared for an influx of at least 100,000 refugees," Deputy Prime Minister Numan Kurtulmus said on Monday.
"We are of the opinion that there isn't a humanitarian crisis in Tal Abyad, similar to Kobani or other regions in Syria," he told private CNN-Turk television.
The Kurdish forces aim to wrest control of Tel Abyad — opposite Akcakale — in order to free up passage from Kobani, on the Turkish frontier, to Qamishli which is close to the Iraqi border.
Formerly an ally of Damascus, Ankara broke off its relationship with Syria's President Bashar al-Assad as a 2011 uprising escalated from peaceful demonstrations to a bloody civil war.
The Turkish government said in April it has spent almost $5.5 billion (4.8 billion Euros) to provide for Syrian refugees.